City news
Viatcheslav Sinkevich beats Russian record
12.24.2012 18:13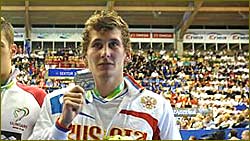 Russia's Viatcheslav Sinkevich blazed through the men's 200 breast with a Russian record of 2:02.45, while Hungary's Daniel Gyurta provided some added motivation with a silver-winning 2:02.98. Ukraine's Valerii Dymo touched third in 2:06.57. Gyurta already owns the world record with a 2:00.67 from the 2009 European Short Course Nationals, while Australia's Christian Sprenger stands second all time with a 2:01.98 from the 2009 Australian Short Course Championships. Sinkevich, however, eclipsed the Russian record of the third-ranked swimmer of all time, Grigory Falko. Falko had set the national standard with a 2:02.50 at the 2009 Euro Short Course Champs behind Gyurta. Tonight's time is now the third-best in textile behind a 2:01.35 and 2:02.37 by Gyurta.
In the highlight swim of the meet, where prize money is more than doubled for the podiumplacers in the men's 1500 free in honor of the man the meet is named after Vladimir Salnikov, Denmark's Mads Glaesner edged Ukraine's Sergiy Frolov, 14:39.36 to 14:39.53. Ukraine's Maxym Shemberyev wound up third in 15:03.18.
Russia's Nikita Lobintsev added a gold to his silver from yesterday with a 1:43.60 to 1:43.95 touchout triumph ahead of compatriot Alexander Sukhorukov in the men's 200 free. Germany's Dmitri Colupaev earned third-place honors in 1:45.08. Lobintsev moved up to 11th in the world this year, while Sukhorukov jumped to 16th overall in the rankings.
USA's Jessica Hardy smoked the women's 50 breast with a victorious time of 30.47, while Russia's Valentina Artemyeva placed second in 30.61. Ukraine's Mariya Liver turned in a third-place 30.95. Hardy's been much faster with a third-ranked 29.74 from earlier this year, but did not need that speed to cash in on the first-place check. Artemyeva, meanwhile, just missed her 11th-ranked season best of 30.53. Liver moved into the top 20 with her effort.
Russia's Sergei Geybel snared the men's 50 breaststroke title with a 26.74, while compatriot Vlad Morozov showed some sprint versatility with a silver-winning time of 26.89. Morozov already won the 100 free on night one after turning in some sizzling times at short course worlds. Ukraine's Andriy Kovalenko checked in with a third-place 26.93. Geybel came up just short of his 14th-ranked season best of 26.63, while Morozov moved into the top 25 with his effort.
Morozov then swept the sprint freestyle events with a sterling time of 21.01 in the men's 50 free. Trinidad and Tobago's George Bovell grabbed second-place honors in 21.13, while Russia's Evgeny Lagunov placed third overall in 21.49. Morozov has the top time in the world this year with a 20.55 from Istanbul, while Bovell is third with a 20.82 from the Stockholm stop of the World Cup tour.
Russia's Evgeny Korotyshkin cashed his first check of the meet with a gold-winning time of 50.40 in the men's 100 fly, while compatriot Nikolay Skvortsov raced to silver in 50.86. Belarus' Yauhen Tsurkin touched just behind with a third-place time of 50.87. Korotyshkin is one of just four swimmers to crack 50 seconds this year with a fourth-ranked 49.98, while Skvortsov just missed his 11th-ranked season best of 50.60. Tsurkin vaulted to 17th in the all time rankings.
The men's 50 back podium was identical to the 100 back from last night with Russia's Stanislav Donets touching out Australia's Robert Hurley, 23.32 to 23.50, for the win. Meanwhile, Australia's Ashley Delaney touched third in 23.80. Donets already is ranked second in the world with a 23.12 from the Tokyo stop of the World Cup, while Hurley has a world-leading time of 23.04 from short course worlds. Delaney also just missed his best of 23.42 from Istanbul.
Russia's Maria Temnikova surfaced victorious in the women's 200 breaststroke with a time of 2:21.19, while Australia's Sally Foster claimed second in 2:21.38 in what proved to be an exciting race. Ukraine's Ganna Dzerkal wound up third in 2:22.83.
Delaney scored his third medal of the meet, and first of the gold variety, with a 1:52.09 in the men's 200 back. Teammate Travis Mahoney touched second in 1:54.23, while Russia's Artem Dubovskoy snared third in 1:55.01. Delaney just missed his seventh-ranked season best of 1:51.20 from Istanbul with the swim.
Australia's Marieke Guehrer ripped off a 25.59 for the women's 50 fly win, with Belarus' Aliaksandra Herasimenia placing second in 25.74. The Netherlands' Inge Dekker finished third in 26.04. Guehrer moved to sixth in the world rankings with her swim, while Herasimenia already stands fourth with a 25.53 season best from Euro Short Course Champs.

PRIZE MONEY BREAKDOWN
The Salnikov Cup is typically the final pro meet of the year with race winnings as follows: Winner -- RUB 20,000 (equivalent of USD 666); Second -- RUB 15,000 (equivalent of USD 500); Third -- RUB 10,000 (equivalent of USD 330). After two days of swimming, Hosszu led all swimmers with more than $6,000 in winnings out of the nearly $50,000 awarded just for race winnings. Denmark's Mads Glaesner topped the men's winnings with more than $2,000 after earning nearly a double-helping with his 1500 free victory.
News source: swimmingworld


Print this news
---
City news archive for 24 December' 2012.
City news archive for December' 2012.
City news archive for 2012 year.