City news
Northern Forest: 42 crews from Russia and Europe compete in Snow-Baja.
02.12.2013 11:50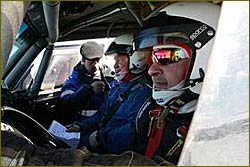 International Baja "Northern Forest" in the forests near St. Petersburg (Russia) is the most special race in the calendar of the rally-raids. It is the only one race, where there is an opportunity to compete not only with rivals, but also with a slippery covering of snow and ice - and strong cold conditions.
Winter's Tale, the snow-covered pine woods, high speeds and the snow sparkling on the sun creaking under wheels of off-road cars are the usual accompanying of participants of this popular race on all route. And if to add to unforgettable impressions also the high status of rally, it is possible to tell that it is a unique race in the world of motor racing.
Twice for a history of running the race, in 2009 and 2010, the "Northern Forest" had a status of the "FIA World Cup for Bajas", and this year it is a Candidate event for the "FIA World Cup 2014".
The list of participants includes 42 crews, and is very strong in names both from Russia, and from Europe. Every year, lists replenish with new crews. This year to WRC-drivers from Finland Harri Tapani Rovanpera and Jouni Matti Ampuja will start in Baja to show a "master class" on the Russian ice piloting Mitsubishi Pajero T1.
And a Russian team "PEC", having armed with two Nissans built in well-known Overdrive team and brought to perfection in Russia, in the team of Konstantin Zhiltsov, will go to submit an explosive mixture of ice and snow with two crews of Evgeny Firsov / Vadim Filatov and Dmitry Iyevlev/ Alexey Shaposhnikov.
Remembering the great debut of this team and 9th overall place in "Rally OiLibya of Morocco 2012", it would be expected that the team will do their best to race in a high sporting level.
Evgeny Firsov (pilot): "The first race of the championship is like a New year, emotions and expectations are very similar. It is interesting to look our race conditions in comparison with the rivals and to understand in which items we should work more."
"Besides sporting goals, there is a strong wish to enjoy a driving on high-speed paths and a winter forest, and also the most beautiful places where the route is laid. For me it will be the first participation in this race, but I heard only positive responses on quality of the organization therefore I am looking forward for the start!"
Vadim Filatov (co-pilot): "Considering a race format which engages three identical special stages, navigators have a special job. Many skilled "gurus" in navigation tell that having registered the shorthand report on the first circle, on two others it is possible to go twice quicker. For me in details to register the road and to make the shorthand report is an aerobatics, but I will try to work with a legend most effectively."
Dmitry Iyevlev (pilot): "I will note two important aspects, connected at me with participation in "Northern Forest" Baja. First, it is a great experience of a driving on snow among very strong competitors, and the second, it is possibility for our team to compete with each other on an equal track and on cars of T1 category that will occur for the first time in our race practice."
Organizers radiate optimism in an assessment of weather forecasts on race, expecting good snow and easy frost, and participants already prepare special tires!
Meanwhile, the long-awaited moment of start of winter race comes nearer, and already on February 14th all the teams will start gathering in the resort "Igora" complex, and on February 15th and 16th we are expected with exciting sporting program and bright moments engaging the Prologue and three special stages with a total distance of more than 300 km.
News source: MARATHONRALLY.COM


Print this news
---
City news archive for 12 February' 2013.
City news archive for February' 2013.
City news archive for 2013 year.