Warning: current() expects parameter 1 to be array, null given in /home/webs/city.air.spb.ru/system/advert.robo on line 24
News at PetersburgCity.com


City news

Business news

Culture news
---
Hot topics


Visa Support

"Stars of the White


Nights" Festival

"Day of the City"


program
---
Popular search words this week

---
Warning: current() expects parameter 1 to be array, null given in /home/webs/city.air.spb.ru/system/advert.robo on line 24

City news
Russians to undertake the longest ever Arctic expedition
04.04.2013 13:03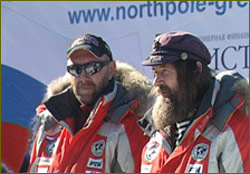 Russian travelers Feodor Konukhov and Viktor Simonov plan to undertake the longest ever dog sled expedition from the North Pole to the southern coast of Greenland. The weather is going to be the travelers' most difficult challenge.
Covering 4,000 km of uninhabited icy territory within four months is a very challenging task. The expedition is going to start at the North Pole on April 6. Konukhov and Simonov plan to reach southern Greenland by August. Viktor Simonov talked to the VoR about the goal of the expedition and major challenges.
"We are in for a very difficult route. We will have to travel some 800 km across the Arctic ices. The second stage will be to ascend the ice shield and then travel through Greenland itself. The goal of our expedition is to confirm Russia's intention to strengthen its presence in the Arctic," Simonov said.
The very start of the expedition will test the travelers' ability to endure extremely cold weather, with temperatures at 40-50 degrees below zero Celsius. Special methods were used to train sled dogs that are going to be used in this expedition. Viktor Simonov continues: "It took me more than a year to train these dogs. They are from a nursery I own in Karelia. The training went well. The first harness will feature sled dogs from Chukotka, and we will be given Greenland sled dogs during our journey."
The expedition is supported by the Russian Geographical Society. The chairman of the Saint Petersburg-based Polar commission of the Society, Viktor Boyarsky, spoke to the VoR about the deadlines: "What is special about this route is the intention to cover the entire territory from the North Pole to Greenland without interruptions. Traveling on sled dogs over ice is very difficult. This leg of the expedition will determine the success of the rest of the journey. July-August in the area is usually a season with rains and snowfalls. We think that if they manage to reach the South Dome by the middle of May, chances will be high to complete the expedition as planned."
Konukhov and Simonov set off from the town of Petrozavodsk on April 3. Tracking buoys will be with them throughout the journey, sending geographical coordinates to the headquarters in Moscow and Petrozavodsk.
Internet users will be able to track the expedition after April 6 on an interactive map at www.northpole-grenlandia.ru.
News source: The Voice of Russia


Print this news
---
City news archive for 04 April' 2013.
City news archive for April' 2013.
City news archive for 2013 year.