City news
Imagine Cup 2013: QU's Qspark team upbeat about their innovative project
07.12.2013 15:13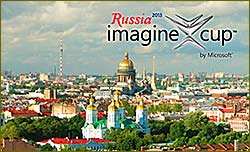 Qspark, the Qatar University team that is taking part in the Microsoft Imagine Cup 2013 in St Petersburg, Russia, is highly hopeful of winning a prominent place in the global contest, the result of which is to be announced today.
Some 309 students, comprising 87 teams from 71 countries are taking part in Microsoft Imagine Cup 2013, touted as the world's premier student technology programme and competition.
The students have been competing making use of Microsoft technology applications for the past two days for $1mn in prizes and awards at the event in its 11th year in the Russian city.
The theme of the competition this year, which also marks the third of the three-year Microsoft Imagine Cup Grants programme, is 'dream it, build it, live it'.
The event provides an opportunity for student technologists, developers and aspiring entrepreneurs from all academic backgrounds to collaborate, develop a technology application, create a business plan and gain a keen understanding of what is needed to bring a concept to market.
For the past decade, Imagine Cup students have created technology applications from software to video games to mobile apps designed to solve some of the world's biggest problems, in the areas of education, healthcare and the environment.
This year, Imagine Cup expanded to encourage more students to apply their creativity by building apps that deliver technology innovations that advance user experiences in categories such as social networks, search, classifieds, online shopping or games — or entirely new categories yet to be imagined.
It centres around three competitions: World Citizenship - honouring the software application with the greatest potential to make a positive contribution to the betterment of humanity; Games - recognising best student games built on Microsoft platforms: Windows 8, Windows Phone 8, Kinect for Windows Software Development Kit and Xbox Live Indie Games; and Innovation - awarding student apps that deliver technology innovations that advance user experiences.
Winners in each category will receive prizes as follow: first place, $50,000; second place, $10,000; and third place, $5,000.
Speaking to Gulf Times at St Petersburg at their project booth during the press showcase of all the projects, QU's Qspark team comprising four third-year students including three computer science students - Latifa Talal al-Naimi, Amna Khalid al-Kaabi and Rahma Saleh Ali; and one computer engineering student Mariam Ali Bahameish, expressed optimism at their brainchild 'Artouch', which is an innovative system that enables museum visitors to feel the shape, curvature and texture of different art pieces without damaging them.
The system was developed using Microsoft Kinect and a sensory device.
"During the judging exercise, we noticed that most of the experts on the panel liked our idea by showing interest and we are very happy about this," team Qspark said.
According to them, most of the visitors to their showcase booth are equally impressed at their innovative idea and also at seeing it's an all-female group.
"Many of our visitors compliment us and expressed surprises to see that we are all girls and computer engineering students…that also makes us proud," they said.
Qspark mentor, Dr Osama Halabi was also full of hope on the future of the group's unique idea, saying: "This is a very innovative project, which is not yet in the market and we are hoping that they would be the pioneers in the field."
He said that the project had great potential of impacting many sectors such as education and teaching, culture, arts and history.
"Artouch is an interactive system that can make visitor's experience in museums very interactive, at the same time, help museums and other art establishments in their digitisation efforts. The system can be made into a web-based app in the future," he said.
"I can tell that the girls have also really done well in their presentations going by the judges' interest as they showed more willingness to know more about their project," he added.
News source: gulf-times.com


Print this news
---
City news archive for 12 July' 2013.
City news archive for July' 2013.
City news archive for 2013 year.