City news
Russia reinstates imperial name to St. Petersburg station
08.12.2013 19:53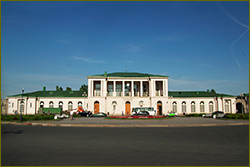 Russian Prime Minister Dmitry Medvedev has reinstated the imperial name of a train station outside Saint Petersburg that is used by tens of thousands of tourists visiting the former palaces of the tsars, state media said Sunday.
Medvedev ordered the train station to use its original name of "Tsarskoe Selo" (Tsar's Village), which it lost almost a century ago in 1918 shortly after the Bolshevik revolution and the fall of the Romanov dynasty, according to a government decree.
Since 1918, the station had been known as "Detskoe Selo" (Children's Village), a more neutral name as the Communists wanted to steer clear of anything that could glorify the deposed tsars.
The station is the stop-off point for the crowds of tourists who visit the spectacular imperial palaces and park in the adjacent town, which is one of Russia's top tourist attractions.
The town's name also had a complex history -- previously known also as Tsarskoe Selo, it was also renamed as Detskoe Selo after the revolution.
In 1937, the town was again renamed Pushkin after Russia's national poet although the train station kept the name Detskoe Selo.
The station's name change will be a relief for tourists wanting to visit Tsarskoe Selo and bewildered by the lack of any station bearing its name.
Post-Soviet Russia has a complex attitude towards the Romanov dynasty, whose last Tsar Nicholas II was murdered by the Bolsheviks in 1918 along with his family.
After years being disparaged by the Communists, the Romanov dynasty has enjoyed a new upsurge of interest, with several exhibitions this year marking its 400th anniversary.
The town of Puskhin/Tsarskoe Selo was the summer residence of the Tsars and particularly favoured by Nicholas II. The train line from Saint Petersburg was the first ever built in Russia and was opened in 1837.
The naming of stations and places is a confusing and sometimes controversial issue in Russia. While the city of Saint Petersburg regained its imperial name as the USSR crumbled, its surrounding region is still officially known as the Leningrad region.
News source: Yahoo!7news


Print this news
---
City news archive for 12 August' 2013.
City news archive for August' 2013.
City news archive for 2013 year.