Printed from: http://petersburgcity.com/news/city/2014/02/13/Stolb_Kilm_130214/
City news, 13.02.2014 14:56
Stolbova and Klimov, pair skaters: silver in pairs figure skating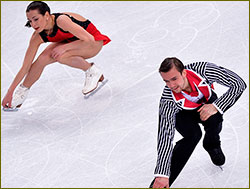 Russia's Ksenia Stolbova, Fedor Klimov took silver in pairs figure skating, scoring 218.68 points. The Russian pair of Ksenia Stolbova and Fedor Klimov were outstanding, showing technical expertise, difficulty and a connection to the audience.
Ksenia Andreyevna Stolbova (born 7 February 1992) is a Russian pair skater. With partner Fedor Klimov, she is the 2014 Olympic silver medalist, the 2014 European silver medalist, the 2012 European bronze medalist, 2013 Winter Universiade champion, 2011 World Junior silver medalist, 2010 JGP Final silver medalist, and 2014 Russian national champion.
Ksenia Stolbova became interested in skating at the age of three but did not begin skating until a few years later after badgering her family. After a number of years in single skating, she wanted to try something different and made the switch to pair skating at the age of 14. Stolbova skated with Artur Minchuk for two years.
In the 2013–14 season, Stolbova/Klimov started their Grand Prix season with a bronze medal at the 2013 Skate America. After placing sixth in the short program and third in the free skate, they finished fourth overall at the 2013 Cup of Russia behind Canadian pair Kirsten Moore-Towers / Dylan Moscovitch. Stolbova/Klimov won the gold medal at the 2013 Winter Universiade in Trentino, Italy and then took their first national title at the 2014 Russian Championships, scoring 0.45 more than the 2012 national champions, Bazarova/Larionov.
Fedor Alexandrovich Klimov (born 7 September 1990) is a Russian pair skater. Fedor Klimov began skating due to his mother who is a coach at the Figure Skating Academy in Saint Petersburg. Although not interested in pair skating at the beginning, he made the switch on his coach's advice when he was 16. Klimov had two partners in his early pairs career.
In spring 2009, coach Ludmila Velikova partnered Klimov with Ksenia Stolbova. They trained in Saint Petersburg.
During their first season together, the pair placed 2nd and 7th at their two Junior Grand Prix events, and 7th at the Final. The pair won the Russian Junior title and then bronze at Junior Worlds in 2010.
During the 2010–11 season, Stolbova/Klimov won both of their JGP events and qualified for the JGP Final. They also debuted on the senior GP circuit, finishing 5th at Skate America. They won silver at the Junior Grand Prix Final. At the 2011 Russian Championships, Stolbova/Klimov finished sixth overall in their senior national debut and won their second junior national title. They were the silver medalists at the 2011 World Junior Championships.
For the 2012–13 season, Stolbova/Klimov worked on upgrading their twist to a triple. They began their international season at the 2012 Coupe de Nice, where they took the silver. Stolbova/Klimov won their first senior Grand Prix medal, bronze, at the 2012 Cup of China, and finished 5th at the 2012 Trophe Eric Bompard. They won the bronze medal at the 2013 Russian Championships.
News source: Voice of Russia