City news
Dmitry Malyshko won gold at the Olympic Games
02.24.2014 23:11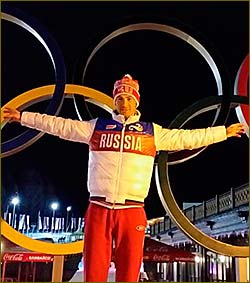 FROM THE 28TH ON THE FIRST
The Olympic Games in Sochi for Dmitry Malyshko were not set: the 28th place in the sprint, the 33rd in pursuit, and 20 in a mass start...
- Probably, I very strongly wanted to rehabilitate myself after unsuccessful last starts where lost many feet,- Malyshko explained the third low result.
In addition, it turned out that a little bit I missed firing.
Some sports television commentators did not believe in a victory on Dmitry Malyshko's relay at the Olympic Games that a rarity in Sochi even.
"But after all Malyshko now without speed, - was made comments on the Twitter by a choice of athletes for relay Vasily Utkin. - For the sake of what to it to run the third stage? Something changed for these days? Only Garanichev, only risk, hardcore!"
Alexey Volkov, Anton Shipulin, Evgeny Ustyugov was a total part and... Dmitry Malyshko. The federation of biathlon gave to the Petersburg chance. Malyshko got number three - in relay.
Alexey Volkov on the route ran in-group of leaders. I missed on firing practice twice. Baton Ustyugova passed on - the third. Dmitry Malyshko got the same position. 20 seconds of lag. Malyshko missed all time, having closed a target by means of the additional boss. When passed on baton to Shipulin, the separation from Bjoerndalen made - 19 seconds. Shipulin finished the first.
Result: the Russian biathlonists took gold in the relay at the Olympic Games, for the first time since 1988. In addition, this victory brought to Russian national team - the first place in an informal medal count.
I LEFT BEHIND MONEY
In biathlon Dmitry Malyshko since eight years. In "professional" - of the fourth class. Then I came to base to train in Pine to Bohr, the small town in the Leningrad region, known for nuclear power plant.
- It and now between collecting here comes, - the first trainer of future Olympic champion Yury Parfyonov told "Sovsport".
From the first championship of Russia between 10-12 summer, Dmitry Malyshko brought the second place, having left Muscovites. Around did not trust. Spoke: "Accident! ". Then race in Murmansk, there it beat Belarusian favourites. Places in ten in the junior World Cup - until 19 years - in 2005...

In 2008 because of financial problems, Dmitry Malyshko gave up biathlon, having gone to work as the clerk in a bank. He was 22 years old, the graduate SUSE, specialty organization management.
In an office, I did not work also two months, I returned.
- The stepfather wanted it to arrange in the bank when Dima stopped trainings, - Dmitry Malyshko's first trainer Yury Parfyonov told "Sovsport". - They came to me and told that this family decision. I did not interfere, but told: "I had pupil Igor Minchenkov, the bronze prize-winner of the junior World Cup after Svendsen and Furkad. So at you, Dima, is much more opportunities and forces". In two months, Malyshko coming and told: "I want to train". We with his trainer Dmitry Kucherov and Anatoly Alyabyev answered: "Dima, don't worry. We will make to you a grant". Many people helped to keep Dmitry Malyshko for our biathlon.
In Vancouver Dmitry Malyshko did not get. At selection competitions for the Olympic Games to it it became bad. Physicians found congenital arrhythmia: operation was necessary. After it in the first Championship of Russia of Malyshko finished the second.
YET DIDN'T ESTIMATE
- Yet I did not realize this victory, - Dmitry Malyshko, - the Stress alternately summed up the result of performance in Sochi. While I am confused in the emotions. Whether I will reconsider this race? Frankly speaking, I seldom reconsider the races. Because, even when you watch the races in repetition, feeling as though you run again. In addition, forces again end. Probably, tomorrow we will look at race everything together. We will estimate, we will analyse the work.
News source: Êîìñîìîëüñêàÿ ïðàâäà


Print this news
---
City news archive for 24 February' 2014.
City news archive for February' 2014.
City news archive for 2014 year.