City news
The Mariinsky International Piano Festival
04.09.2015 06:25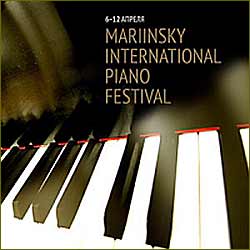 The Mariinsky Theatre is running the Mariinsky International Piano Festival for the ninth time. From 6 – 12 April at the Concert Hall and chamber venues of the Mariinsky-II there will be fourteen concert programmes featuring sixteen pianists.
Twice a year this major piano forum showcases different performing traditions featuring great maestri who have already won international acclaim as well as dazzling young pianists for whom the journey to music's Mount Olympus has only just begun. The recital, chamber and symphony programmes afford a wonderful opportunity to judge the particulars of the technique, interpretations and styles of pianists from different generations and nationalities. One feature of the current festival is the monograph programmes: there will be performances of piano concerti by Ravel (opening concert of the festival, soloist Pierre-Laurent Aimard (France), 6 April), all of Brahms' piano concerti (closing concert of the festival, soloist Alexei Volodin, 12 April), a programme of works by Chopin with Jean-Baptiste Fonlupt from France (8 April), works by Liszt including the Sonata in B Minor with Shin-Heae Kang from Germany (9 April), Bach's Twenty-Four Preludes and Fugues from the Well-Tempered Clavier (Volume I) in the recital programme of Pierre-Laurent Aimard (9 April), all of Chopin's preludes and Scriabin's twenty-four preludes with Boris Petrushansky (10 April), Beethoven's cycles of variations – thirty-three variations on a theme by Diabelli and thirty-two variations on one of Beethoven's own themes – performed by Finnish pianist Jukka Ovaskainen (10 April), Beethoven's Groe Sonate fr das Hammerklavier (Sonata No 29) in a recital programme by Ivan Rudin (11 April), Modest Musorgsky's Songs and Dances of Death and five romances by Dmitry Shostakovich to verse by Dolmatovsky (Xenia Bashmet, piano, and Gevorg Ambartsumian, baritone, 7 April) and romances by Taneyev (Viktoria Mun, soprano, and Mikhail Byalik, piano, 12 April). New to the festival in St Petersburg are pianists who have already won international critical acclaim including Pierre-Laurent Aimard, who follows the French pianistic tradition. On 6 April he will open the festival with Ravel's two piano concerti with the Mariinsky Orchestra under the baton of Valery Gergiev. On 9 April Aimard will give a recital dedicated to the music of Bach. His interpretations of polyphony have received lofty praise from renowned critics, while his disc of Bach's The Art of the Fugue, recorded with Deutsche Grammophon, became one of the most popular classical albums on iTunes.
One unvarying aspect of the festival programme is that it presents the school of one outstanding professor of piano. On 10 April there will be a performance by Boris Petrushansky, Honoured Artist of Russia, soloist with the Moscow State Academic Philharmonic and professor at the Incontri col Maestro piano academy in Imola (Italy). The pianist will perform preludes by Scriabin and Chopin. As Petrushansky says, the idea of performing two cycles, "uniting forty-eight different states of the human soul, thoughts, moods and relationships in one huge garland" came about by itself. "In terms of structure, in terms of the circle of fifths with parallel tonalities, Scriabin's preludes exactly replicate Chopin's principles, and the early Scriabin came totally from Chopin."
On 11 April St Petersburg audiences will have the opportunity to hear Petrushansky's students – Kiryl Keduk, Galina Chistyakova, Leonora Armellini and Roman Lopatynskyi.
The galaxy of young stars will also feature Yeol Eum Son from South Korea, Ivan Rudin from Moscow and the German pianist of Korean descent Shin-Heae Kang.
The current festival will also feature concert-master pianists and maestri of chamber performance. There will be duets of singers featuring Mikhail Byalik (with soprano Viktoria Mun in a programme of romances by Taneyev, 12 April) and Xenia Bashmet (with baritone Gevorg Ambartsumian in a programme of romances by Rachmaninoff and song cycles by Shostakovich and Musorgsky, 7 April). Together with violinist Dragan Sredojevi, the Croatian pianist "with staggering stage charisma" Goran Filipec will be performing a programme of works by Bach, Liszt and Franck (11 April).
Regular festival guest Denis Matsuev will gather together his fans on 8 April at the Concert Hall. Together with the Mariinsky Orchestra he will be performing works by Russian composers Igor Stravinsky and Rodion Shchedrin. Valery Gergiev will be conducting.
The final chord of the forum will come with a performance by Alexei Volodin with the Mariinsky Orchestra under Daniel Raiskin. This pianist of high musical intellect and a "poet" of the piano will present Brahms' First and Second Piano Concerti.
The festival will run at three venues – the Concert Hall and chamber halls at the Mariinsky-II.
News source: The State Academic Mariinsky Theatre


Print this news
---
City news archive for 09 April' 2015.
City news archive for April' 2015.
City news archive for 2015 year.