Printed from: http://petersburgcity.com/news/city/2015/08/11/len_zoo_150_110815/
City news, 11.08.2015 14:56
The Leningrad zoo – 150!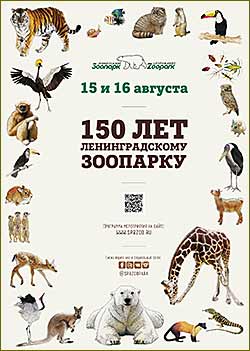 On August 15, 2015 the Leningrad zoo will celebrate the 150 anniversary the big festive program.
This day guests of the Zoo will be invited in "travel in time" and will suggest to get acquainted with the main stages and significant events in the life of the Petersburg zoo – the Leningrad zoo – the Leningrad zoo from 1865 to 2015.
The territory of the Zoo will be divided into conditional zones, each of which will be devoted to a certain time span in the history of the Zoo. Also, two photo exhibitions will be open, will take place indicative feedings, trainings and walks of the tamed animal, and all guests wait for pleasant surprises.
The ceremonial opening of the holiday devoted to the 150 anniversary of the Zoo will take place on August 15 at 12.00.
News source: Administration of St. Petersburg