Printed from: http://petersburgcity.com/news/culture/2001/05/17/news250/
Culture news, 17.05.2001 12:45
Andron Konchalovsky completes his new book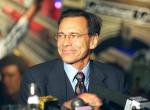 The book is devoted to the great composer Sergey Rakhmaninov, his life and works in connection with history of Russia. Andron Konchalovsky says the choice was not accidental - every time when listening to Rakhmaninov's music he thinks about making a film. So, in fact, the book is a scenario for the fiim that will probably appear one day.

Photo by B. Kavashkin, ITAR-TASS

News source: IA "Rosbalt"