Printed from: http://petersburgcity.com/news/culture/2001/07/06/news466/
Culture news, 06.07.2001 17:35
Russian distaffs exhibited in Benois Wing of The State Russian Museum.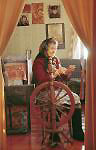 Also on display are spindles, samples of weaving and works of art depicting Russian spinners.

Traditionally, a girl got her first distaff from father in early childhood. So it was preserved not only as the useful instrument but also as a keepsake. Thanks to that reason all distaffs are undamaged and can be presented to public.