Printed from: http://petersburgcity.com/news/culture/2001/07/23/news571/
Culture news, 23.07.2001 15:49
Elbrus will be occupied by Petersburgers.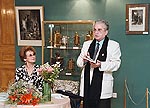 August, 2001 the flag of World-Wide Club of Peterburgers will be set on the top of Elbrus.

Legendary Mikhail Bobrov, freeman of the city, who participated in buildings camouflaging durin the blockade, will head this expedition.

Mikhail, 77, wants to set flags of Saint-Petersburg on all peaks of all continents.