Printed from: http://petersburgcity.com/news/culture/2001/07/25/news582/
Culture news, 25.07.2001 11:28
Mark Knopfler will come to Petersburg July, 30.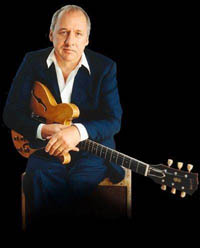 July, 30 Mark Knopfler will play his concert in Oktyabrsky Concert Hall.

The first stage of the tour began in Mexico and South America in late March. The second stage took in dates across the USA and Canada starting late-April through to late-May. The final European stage commenced early June. The tour will finish at the end of July.

The tour line-up is Mark, Guy Fletcher, Richard Bennett, Glenn Worf and Chad Cromwell from the '96 line-up plus Geraint Watkins on keyboard and Mike Henderson who is featured on the STP album.

There will be a support band at the Royal Albert Hall and at some other venues.

Mark expects to play a set of around 2 hours.

July, 31 he will come to Moscow.