Printed from: http://petersburgcity.com/news/culture/2001/08/01/sad/
Culture news, 01.08.2001 13:18
Petersburg will give Paris a garden.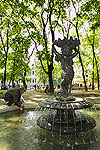 Petersburg will give 'Vavilov's garden – Five continents' to Paris. It will be organized in Royal garden in Versailles. It was decided by Vavilov all-Russian science and research institute of plant cultivation and Royal garden administration of Versailles during Russian-French seminar 'Preservation and use of plant genetic resources in Petersburg.

Rare plants collected by Russian member of the academy Vavilov during his expeditions all around the world will be there.

Garden will have been completed by March, 2002. Its opening will be dated for 10 years of UN convention of 'Biological diversity'.

French biologists will organize the same garden in Saint-Petersburg.