Printed from: http://petersburgcity.com/news/culture/2001/08/01/tuva/
Culture news, 01.08.2001 14:24
Unique archeological findings came to the Hermitage from Tuva.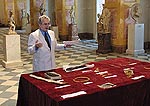 Undisturbed tomb (VI-V BC) was found in West Sayan in Tuva.

Buried man and woman belonged to upper nomad society. Their dress is decorated with gold and gems. Arms, dress, crockery and utensils were also found. Science researches and restoration will be held in Petersburg.