Culture news
Inside and outside of 'S.P.A.S.' and Sergey Laushkin.
08.06.2001 11:19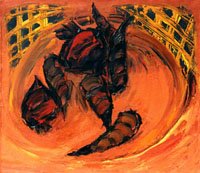 The 'S.P.A.S.' gallery hosts an exhibition of Sergey Laushkin, an artist from the Urals. His favourite image is a house, with a little universe revolving around it: he paints still life (everything that is in the house) and landscapes (everything that can be seen from the window of this house).
Sergei Laushkin was born in the small village of Preobrazhenka in the Southern Ural Mountains. In 1973 he graduated from the Cheboksari College of Art. In 1994 his professional career as an artist began with his first personal exhibition in Ekaterinburg. Since that time he has participated in group shows or personal exhibitions in major Russian urban centers including Ekaterinburg, and St. Petersburg.
Sergei's creations are full of life and emotion, created in a simple, straight-forward fashion. His positive attitude towards life is expressed in every painting. Sergei has an incredible gift of finding new and exiting details in everyday life and express it in a way that gives his audience a sense of joy, wholeness and clarity.
Sergei describes his painting in the following way:
"Of all the aspects of painting - color, paint, strokes - I focus on the latter. My grandfather was a blacksmith and in my childhood I often watched iron heat and cool with hissing. Grandfather worked incredibly fast while the metal was hot and flexible. This is how I like to paint - fast, while my palette knife is "hot" and I feel the moment. The brush as an instrument is too "liquid" for me - it lacks density and contact with the canvas. Spreading paint on canvas gives me physical delight. I enjoy the sense of freshness in art, and I'm really happy when it is reflected in my paintings. I never change what I have created because I know I'll never feel the way I did at that particular moment. It's the very moment that excites me."

Print this news
---
Culture news archive for 06 August' 2001.
Culture news archive for August' 2001.
Culture news archive for 2001 year.