Warning: current() expects parameter 1 to be array, null given in /home/webs/city.air.spb.ru/system/advert.robo on line 24

Culture news
Jurgen Klauke's "Absolute Calm" in Russian Museum
08.22.2001 16:53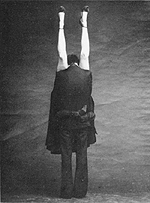 Jurgen Klauke's "Absolute Calm" photo exhibition starts August 23 in the State Russian Museum's Benoit Building. The exhibition introduces for the first time a retrospect of works by a modern German photographer, artist, actionist Jurgen Klauke. He played the role of an innovator and a pathfinder in the German photography development in 1970-1990s. Back in the beginning of the 1970s the young avant-guard artist was one of the first to give a strong impulse to turning photography from a documentary instrument into a new and independent art language. Having chosen his own body as a central theme for his works for the first time, J. Klauke determined the body art development for a long time. In mid 70s he attracted everyone's attention to himself with spectacular performances. In 1973 Klauke started to deliberately use staging in his photo works. The works of this period are of a series type and show "Ego" changing positions. In 1980s J. Klauke stops to use his own image in stage photographs. This second period is dedicated to representing objects and conditions connected with them. During the third period of his work Klauke refuses to represent reality as it is. The artist ceases to take photographs of himself, other people, things and leaves only images of shining rays in the screen.
News source: Artpiter.spb.ru Photos: http://www.ibun.edu.tr/


Print this news
---
Culture news archive for 22 August' 2001.
Culture news archive for August' 2001.
Culture news archive for 2001 year.