Printed from: http://petersburgcity.com/news/culture/2001/08/24/agabekov/
Culture news, 24.08.2001 16:06
Alexandre Agabekov's Exhibition to Open in the Stroganov Palace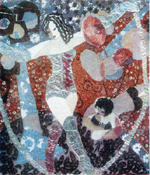 A Petersburg-based artist Alexander Agabekov's personal exhibition opens Friday in the State Russian Museum's Stroganov Palace.
As Olga Shikhireva, senior staff scientist of the SRM XIX-XX centuries painting department, more that 100 works the artist created in 1970s-1990s will be exhibited in 5 halls. Among them - printed graphics, lithographs, watercolours, landscapes on the glass.
About 50 presented works are made in mixed technique: the artist combines cloth, harvested foil and paper with oil. His glass collages are of great interest. In these works the author uses the early XIX century glass landscape and folk glass pictures traditions. Agabekov uses new techniques as well: combines several glasses, places the images at the top and back of the glass, works with looking-glasses.
The works for the exhibition in the Stroganov Palace are taken from the SRM collection and from the artist's private collection.
Agabakov's works are kept in the State Tretyakovskaya Gallery, the State Fine Arts Museum of A. S. Pushkin, and in private collections in Russia, USA, Germany and Italy
News source: Museums.ru Photos: artline.ru