Printed from: http://petersburgcity.com/news/culture/2001/09/20/lennon/
Culture news, 20.09.2001 14:28
"The Beatles" Forever!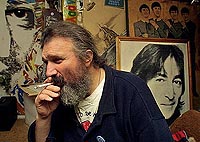 Petersburg's Beatles fans headed by Kolya Vasin are preparing themselves for John Lennon's birthday celebration.

This year the celebration supported by Leonid Tikhomirov, Mikhail Borzykin, Alexander Donskih, Show-thatre "Skimen", bands "Spokoynoy nochi", "Griby", "Cafe" will be held in the "Courier" club.