Printed from: http://petersburgcity.com/news/culture/2001/12/03/festival/
Culture news, 03.12.2001 17:25
Now theatre is affordable for everyone.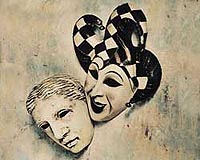 The IV Charity Festival "Foreign Classics on a St. Petersburg Stage" will be held on December 3-27 in St. Petersburg. All tickets are free.

The best Petersburg theatres take part in the festival, very interesting plays will be performed. The festival itself is a good present for theatre-lovers, who cannot afford to visit it frequently. According to the organizers' estimations, more than 6.5 thou. people will visit the festival. This year the festival will be held in two stages: on December 3-11 dramatic plays will be performed, including comedies of Moljer and Bomarshe, works of Shakespeare, Rostan, Dumas, Gauptman, Shaw. The second stage - on December 19-27 - comprises music performances, including works of Rossini and Bakh, a musical and a romance night, two musical comedies.