Printed from: http://petersburgcity.com/news/culture/2001/12/07/apollo/
Culture news, 07.12.2001 12:41
Abstractionism and Apollo Society.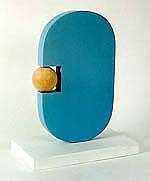 The exhibition "Abstractionism and Apollo Society: works from Nikolay Kononikhin's Collection" is opening today in Valencia Gallery (Bakunina str., 5).

The exhibition is a part of a great exhibition project of the State Russian Museum "Abstraction in Russian Art. The XX century". The exposition in Valencia Gallery consists of more than 40 paintings, graphics and sculptures from Nikolay Kononikhin's collection. These are works of B. Klaushin, V. Zhukov, L. Borisov, L. Tkachenko and other members of Apollo Society, along with its honoured members P. Kondratyev and V. Volkov.