Printed from: http://petersburgcity.com/news/culture/2001/12/14/dance/
Culture news, 14.12.2001 17:09
The I All-Russian Seminar on Wheelchair Dance Sport is held in St. Petersburg on December 14-15.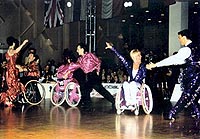 Wheelchair Dance Sport was the latest sport to become an "IPC Sport" in 1998. In 1977, the first international competition in Wheelchair Dance took place in Sweden. The first World Championships were organized in Japan in 1998. Today, more than 5.000 dancers (4.000 wheelchair users and 1.500 non-disabled partners) practise Wheelchair Dance on both a recreational or competitive level in more than 40 countries. Every year about a thousand of participants, starting from beginners to champions of Europe and World, gathers in Netherlands, where the World Cup is held.

A seminar on Wheelchair Dance Sport is held in St. Petersburg for the first time. Its aim is to facilitate development and dissemination of this original kind of sport and art as an effective method to rehabilitate people with limited abilities. The program of the seminar includes ballroom and sport dances, lectures, watching of educational films, individual studies.