Printed from: http://petersburgcity.com/news/culture/2002/01/08/roerich/
Culture news, 08.01.2002 18:33
A copy of the videotape showing N. Roerich has been handed over to St. Petersburg.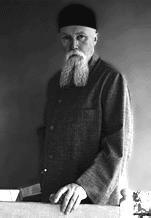 A unique 20-minute tape was found in the New York Museum. It shows N. Roerich while travelling in Tibet and in his house in North-East India.

The location of the tape was identified rather easily, but at first the New York Public Museum of Roerich refused to colloborate. With the search being supported by Aleksander Kadakin, Russian Ambassador in India, a copy of the tape was handed over to St. Petersburg.

Nikolay Roerich (1874-1947) is known first and foremost as a Russian-born artist. His paintings, of which there are thousands around the world, explore the mythic origins, the natural beauty, and the spiritual yearnings of humanity and of the world. Roerich's paintings offer a kind of teaching - about spiritual development, about culture and its role in human life, and about possibilities for the achievement of peace in a fractious world.