Culture news
Kasimir S. Malevich's Black Square Exhibited at the Hermitage
06.21.2002 12:35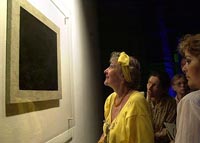 Kazimir Severinovich Malevich (1878-1935), avant-garde painter, founder of suprematism, a version of geometrical abstract art, was born near Kiev in a Polish family. In 1904-1905 he attended classes at the School of Painting, Sculpture and Architecture in Moscow. He successively was involved with impressionism, fauvism and cubism and then in Munich worked together with Wassily Kandinsky in Der Blauer Reiter. 1915 inaugurated the ''suprematic period'' of Malevich. His Black Square was already then taken by many as a symbolic gesture or a nihilistic declaration of the ''end of painting'' which is to be overcome to get rid both of ''naturalism'' and ''minimalism'' of fine arts rather than a work of art. In his manifesto ''From Cubism and Futurism to Suprematism... New Realism of Painting'', published in 1916, Malevich wrote, ''The savage was the first to lay down the principle of naturalism... We will not see a pure painting before the habit to see in canvases depictions of nature, Virgins or shameless Venuses is abandoned...'' Malevich believed himself to be an ''apostle'' of the future art. In 1920, with the support of Marc Chagall he founded in Vitebsk UNOVIS (group of ''Founders of New Art'') and in 1923 headed in Petrograd GINKhUK (State Institute of Fine Arts). In 1926-1927 Malevich worked at the Bauhaus in Dessau and organized exhibitions in Berlin and Warsaw. In 1929 A. Lunacharsky appointed Malevich ''People's Commissar for Fine Arts'' but in the next year his exhibition in Kiev was prohibited. Malevich died in Leningrad in 1935.
Photo: Hermitage


Print this news
---
Culture news archive for 21 June' 2002.
Culture news archive for June' 2002.
Culture news archive for 2002 year.