Culture news
Hermitage and Winter Palace: 85th anniversary
11.12.2002 16:54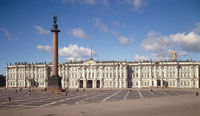 85 years ago, on November 12 /October 30 old style/, 1917, People's Commissar of Education of the Soviet Government Anatoly Lunacharsky proclaimed the Winter Palace and the Hermitage in St. Petersburg, or Petrograd as it was called then, to be state museums. Immediately after the October revolution of 1917, the Hermitage collected works of art from the imperial palaces of St. Petersburg and residences in Gatchina, Peterhof and Tsarskoye Selo, from the palaces of the St. Petersburg nobility, and from the Academy of Arts and Baron Stigliz's School of Technical Drawing. The decades that followed the revolution were a hard time for the museum - during the 1920s, it gave away to Moscow's art museums more than 500 canvases, including such famous ones as Rembrandt's "The Turk," Rubens' "The Lord's Supper" and "Madonna," Vandyke's "Portrait of Anthony Triste," Veronese's "Resurrection of Christ" and many others. Apart from that, hundreds of paintings and objects of applied art were donated to picture galleries and art museums in Russia, Belarus, Ukraine and other Union republics. Sales of valuables from the Hermitage at European auctions in 1928-1933, too, lessened the unique collection. The first exposition, "The Funeral Cult of Ancient Egypt," and exhibitions of paintings opened in 1919. In January of 1920, a Museum of the October Revolution opened at the Winter Palace. For a quarter of a century, the Winter Palace had two hypostases - that of a museum of art and history and a museum of the revolution. In the first five years that followed the revolution, access to the museum was free for all. Today, the Hermitage is one of the world's biggest art and historical collections numbering around 3 million exhibits. The exposition occupies five buildings - the Winter Palace, the Small, Old and New Hermitages and the Hermitage Theater. Specialists say that in order to view every exhibition hall at the Hermitage, one has to cover a path of 22 kilometers.
News source: lenpravda.ru


Print this news
---
Culture news archive for 12 November' 2002.
Culture news archive for November' 2002.
Culture news archive for 2002 year.