Culture news
The Hermitage: war in Iraq may destroy ancient monuments
03.31.2003 17:47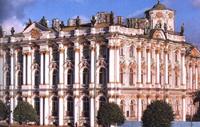 Staff members of the Oriental Department of the Hermitage, one of the world's major museums, have drawn up a list of historical and cultural monuments which could be lost to the world due to the military action in Iraq, the country whose territory once saw the ancient civilisations of Akkad, Uruk, Sumer, Assyria and Babylon.
According to the museum's Oriental Department, Iraq has a great number of ancient monuments, including Sumerian and Assyrian palaces, many of which were excavated several decades ago, and are currently open air monuments. Incidentally, Baghdad itself, which was founded in 762 by Caliph Al-Mansour from the Abbasides dynasty, became an architectural wonder - the first "round city" in that territory which was build according to a plan.
The list includes several dozen monuments situated around Baghdad. It is on the outskirts of Baghdad that the ancient towns of Babylon and Ktesifon were situated. Apart from that, the list contains two famous Iraqi national museums - in Baghdad and Basra.
Grigory Semyonov of the Oriental Department stressed that this very short list only includes the most famous monuments and museums, while the archaeological map of Iraq, which the Hermitage has, contains several hundred historical and cultural monuments. He said that due to the information blockade that now exists around Iraq, the scholars do not know anything about the fate of these ancient monuments, part of which may be already destroyed.
According to Grigory Semyonov, the war will undoubtedly inflict grave damages on the cultural monuments: if the archaeological monuments do not suffer from the bombings, they may be damaged by the construction of fortifications and by post-war plundering of the country.
News source: www.rosbaltnews.com


Print this news
---
Culture news archive for 31 March' 2003.
Culture news archive for March' 2003.
Culture news archive for 2003 year.