Printed from: http://petersburgcity.com/news/culture/2003/10/21/enchantress/
Culture news, 21.10.2003 15:29
"The Enchantress",Tchaikovsky opera staged by the English director in the Mariinsky Theatre.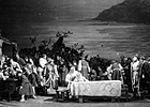 Valery Gergiev will conduct today the performance of "The Enchantress",Tchaikovsky longish opera staged by the English opera director in the Mariinsky Theatre.

Pyotr Tchaikovsky himself conducted the premiere of The Enchantress on 20th October (1st November, Old Style) in 1887 at the Mariinsky Theatre. The play on which the opera is based, with its 15th century setting, was a costumed melodrama performed in Russian theatres during the reign of Alexander III. Its secondary title was "The Legend of Nizhny-Novgorod". The libretto of the opera was still remarkable for its lengthiness, even with all the numerous post-premiere cuts, characterising it as the work of a non-musical playwright and making it one of Tchaikovsky´s longest operas. A new libretto was written by Sergei Gorodetsky to meet the new demands of Soviet theatre. The opera was thus revived at the Kirov Theatre on 22nd March 1941.

The present production is a new version of the opera, staged by David Pountley, English opera director. Pountley was in charge of stage productions at the English National Opera 1982 to 1992 and has directed numerous operas all over the world. He is the librettist and director of The Doctor of Myddfai (1995) and of Mr. Emmet Takes a Walk (2000).