Culture news
The XII Union of European theatres Festival brings the works of Eimuntas Nekroshius to the city
10.21.2003 15:06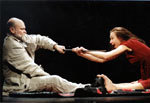 The XII Union of European theatres International Festival marks its end with two performances of "Meno Fortas" theatre studio staged by one of Europe's most respected theatre masters - Eimuntas Nekroshius.
The "Meno Fortas" theatre studio was formed in January 1998 as a private, non-profit institution. One of its founders was director Eimuntas Nekroshius. The performances staged by Eimuntas Nekrosius has popularised the new trend in Lithuanian theater - the poetic-metaphorical theater, where the main attention is devoted to the psychologically exact, emotional and plastic acting, the special and unique usage of the scene properties which gets a multi-layer meaning in the play .Chechov's "The Uncle Vania" staged by Nekrosius in 1986 had an especial resonance; the stage director refuted existing tradition of the Chechov's play staging which was based on Stanislavsky. This stage director and stage-poet is a supporter of the theatrical and independent theater, he uses the literature work as an impulse to create the scene story; his especially playful, dynamic and full of visual decisions performances absolutely destroyed the conception of literal theater and became the example to young stage directors while organising the scene space for acting.
In 1994, Nekrosius was announced the best stage director of the year by Lithuanian critique for his stagecraft of "Mozart and Saljery. Don Chuan. Black Death." ; in the same year, the stage director was awarded for The New Reality in Europe Theater by the Europe Theater Union and the Taormina Art Committee; in 1996, he was awarded by the UBU Premium (Italy).
Two works of Eimuntas Nekroshius, parts of the four-piece saga "The Seasons of Donelajtis": "The Joys of Spring" and "The Blessing of Autumn" will be shown in the "Baltic House" Theatre on October 30 and 31.

Print this news
---
Culture news archive for 21 October' 2003.
Culture news archive for October' 2003.
Culture news archive for 2003 year.