Printed from: http://petersburgcity.com/news/culture/2003/10/31/bashirov/
Culture news, 31.10.2003 15:29
The international festival of new cinema "Deboshir Film"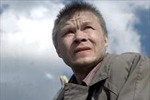 The international festival of new cinema "Deboshir Film" will be held in the Leningrad Palace of Youth on November 4-9. It will reature films by young Russian and European directors, student works and concerts of the local rock bands.

The aim of this festival is to assemble movie enthusiasts faithful to the idea of independent cinema. This cinema movement doesn't depend on financial, political and state pressing and gives a liberty of reflection on the life and current affairs. The young movie - makers, not intending to meet the requirements of mass culture, need a mutual support, possibility of communication and awareness of inseparable right to the self - expression.

The festival is organised by Aleksandr Bashirov. Saint-Petersburg actor and director, Bashirov has acted in over 20 films. In 1992-1995, he also acted in video clips, hosted concerts of leading rock groups and participated in the shows of the group Pop Mechanics. In 1996, Bashirov founded Deboshir Film Studio , where he is both the creative director and a teacher at the directors' workshop. The Iron Heel of Oligarchy is his director's debut in full-length feature film and one of the rare good Russian avant-garde films.