Culture news
Chinese circus of the Golden Lion fascinate the city
11.12.2003 11:46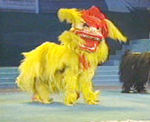 Chinese circus of the Golden Lion brings its performances to Saint-Petersburg. Dancing lions and peacock bicycles can be seen November 11-16 in DK Lensoveta.
The origin of the Chinese circus is something of a debate. However, what is clear is that it is an ancient art. First records date back over 2000 years.
There are over 250 Circus troupes within China today, and many of these have toured around the world.
Within China, acrobats are regarded with respect and admiration. Training begins as early as four years old. Specific training with an acrobat troupe may begin by the age of eight. Basic training - balancing, tumbling, dancing, flexibility, and strength training -- is given in the first two years. Although some children can perform at an early age, when their flexibility and suppleness are at their highest, performers generally start in their mid teens.
There are many classical acts. Particular to Chinese circus is the dancing lions. This act is in fact rooted in Buddhism. The lion is a Buddhist symbol of good luck, and rivals the dragon as the most auspicious animal to guard against evil. The lion is also the animal depicted in Buddhism as the carrier of Wen Shu (Manjusri) the Boddhisattva of wisdom. The lion dance is a display of balance, co-ordination and strength combined into one. The ease with which the two acrobats within the lion's costume act as one belies the difficulty of this act.
A more recent act is that of the Peacock Bicycle, and the world record for the most number of people on a bicycle is held by a Chinese Circus troupe from Zhenzhou: an impressive 17 people, weighing over half a ton, this act takes some strength on the part of the person pedalling the bicycle.

Print this news
---
Culture news archive for 12 November' 2003.
Culture news archive for November' 2003.
Culture news archive for 2003 year.