Culture news
Different styles of Brazzaville
11.18.2003 12:48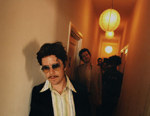 Brazzaville, an L.A. group playing a magnificent mixture of various styles, will give its only performance in Saint Petersburg in the Red Club on November 29 at 8 p.m.
David Brown, the leader of the group has got such a voice, which will make you to doubt whether it is overfilled with a excessive romantic, emotions and pain or it is a plane, old and lifeless voice (these two extremes may actually be the same). His vocals however were only paid a proper attention in 1998, when he founded Brazzaville in Los Angeles. Brown is an author of songs and the main vocalist in the band. Brazzaville consists of six experienced musicians from all over the world and combines different music styles. If an American bossa nova existed it would be Brazzaville. Deep, dark and infectious basses with a Brazilian aroma join to Brown's poetical and for certain "made-in-the-U.S.A." writing.
Their music is under South America and The Far East, George Ben and The Clash and their own sound is compared with that of Li Hazelwood and David Sylvian.
Brown played with this earthy and eclectic sound in two previous releases made by Michael Roson – of 1998, illusorily titled Brazzaville 2002 and of 2001, Somnambulista – and perfected it in the third disk Rouge on Pockmarked Cheeks (South China Sea Rec.). Rouge on Pockmarked Cheeks was released in May 2002 with the help of venerable Nigel Godrich (Radiohead, R.E.M, Travis, Beck's Mutations), Tony Kofer (Air, Suede, Supergrass, Beck's Midnight Vultures) and Roson. By the end of the year the main Los Angeles music critic John Pane from the LA Weekly had named it one of the best albums of 2002. Songs Motel Room and Rainy Night are the most infectious melodies of the album and Brown's poetical talents are doubtless in his comments to the events of September 11 in Xanax and 3 Hours of TV. Other songs tell stories about narcotics, prostitutes, gateways and nomad life taken from Brown's numerous trips.
Such an experience has inspired him to the most ambitious and risky adventure of the band. In 2005 Brazzaville is going to depart to seaports of the world on a cargo boat, full of popular bands, musicians, dancers, cinema-men, artists, writers, philosophers and experimental composers. The boat is to set off from New York and for a year and a half they will be playing around the world, stand still, make show like the Lollapalooza festival in seaports of the world.
The music adventure is just an example of Brazzaville's passion for mixing up everything: the voice which is full and empty at the same time, the sound which is simultaneously Americana and World, the tour which is not by bus but on a boat.
News source: www.peterout.ru


Print this news
---
Culture news archive for 18 November' 2003.
Culture news archive for November' 2003.
Culture news archive for 2003 year.