Culture news
Einsturzende Neubauten on tour in Saint-Petersburg
01.12.2004 13:22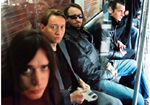 On February 26, we will have a chance to listen to Einsturzende Neubauten and their new album "Perpetuum Mobile" in the "Port" club.
Einsturzende Neubauten was formed 1980 in Berlin as a part of the Die Geniale Dilletanten, a dadaistic musical movement that had as a common goal to break down all musical conventions. Einsturzende also gained recognition because of their use of metal plates, electric drills, metal cutters and circle saws as instruments.
Musically they have created a new form of "urban story blues" with a very physically intensive and organic sound, much due to their habit to record the source instead of sample and process sounds digitally. The lyrics are often centered on themes like modern foundering and extreme psychologic states such as love or depression.
Einsturzende Neubauten (translated "collapsing" or "imploding new buildings") didnīt do any over night success, but they were talked of. When the new built German Congress Center collapsed just a few days before the opening ceremony and just a few days after the release of their first single, the talk got a new dimension.
Einsturzende Neubauten got an international breakthrough among the critics in 1983 with their second album, "Zeichnungen des Patienten O.T.". They also created quite some fuzz with a line of spectacular ("terroristic and death-despising") concerts.
In 1987 Einsurzende Neubauten performed the music for the theatre play "Andi" on Deutches Schauspielhaus in Hamburg. This was an excellent opportunity for the German scandal press to introduce Einsturzende Neubauten to a broader public, as they did. Earplugs were given to the theatre public. Though this, after the premiere, Einsturzende had to give encores. This was a new step for Einsturzende, into the "fine", established culture. They have since written music for a handful of radio-theatre and theatre plays, ballets and dance academies (not always without confrontations, as the group often is considered as sensationalistic amateurs by the more established cultural society). Mufti is the Neubauten-member most engaged in theatre. In 1990 Einsturzende Neubauten signed with the record company Mute. The sublabel EGO was formed 1991.
Saint-Petersburg audience will hear the upcoming new album of this legendary group "Perpetuum Mobile" on February 26

Print this news
---
Culture news archive for 12 January' 2004.
Culture news archive for January' 2004.
Culture news archive for 2004 year.