Printed from: http://petersburgcity.com/news/culture/2004/01/30/houston/
Culture news, 30.01.2004 13:48
Whitney Houston on tour in Saint-Petersburg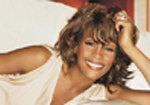 The famous American singer and cinema actress Whitney Houston will give a concert in Saint-Petersburg on February 8. The show will be held in the Ice Palace.

Whitney Houston will be performing some of her new songs from her newest album "One Wish - The Holiday Album" as well as many of her great old songs from her previous albums, such as "The Bodyguard" and "Waiting to Exhale". After the concert the DJ will play for guests who want to continue after the show.

Houston planned her guest performances in Russia a few years back but her arrival in Russia was put off again and again because of the instability of the situation in the country and the singer's health problems. The organizers of the concerts say the singer is going to meet her fans and also to go sightseeing in St Petersburg and to visit museums. A group of 60 will accompany the singer and bring along an impressive show. Houston will present her new programme.