Warning: current() expects parameter 1 to be array, null given in /home/webs/city.air.spb.ru/system/advert.robo on line 24

Culture news
Works of Elmir de Hory, the greatest art forger, are exhibited in "Winter Gallery"
04.01.2004 12:53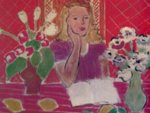 Elymr (pronounced el-meer) is considered one of the greatest art forgers of the 20th century, a flamboyant Hungarian who claimed to have sold more than 1,000 fakes to galleries and museums around the world. After a jail sentence in Spain, he was kicked out of the country and told his story with Clifford Irving in a 1969 book, Fake!. A master of many styles, he claimed to have passed off paintings by such artists as Picasso, Modigliani and Matisse, causing a scandal in the world of art and its experts. He apparently committed suicide in 1976, although some believe he faked that, too. Elymr is featured in the Orson Welles film F for Fake (1974) and the documentary Masterpiece or Forgery? (1997).
Winter Gallery located at Grivtsova al. 2Ç has put on display one of the exemplars of his album "Hommage a…" — 15 lithographs that he did not long before his death.

Print this news
---
Culture news archive for 01 April' 2004.
Culture news archive for April' 2004.
Culture news archive for 2004 year.