Culture news
Africa display unmasks HIV fears
05.11.2004 15:07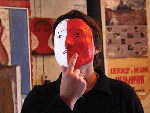 An exhibition on display in St. Petersburg offers a glimpse into realities of life for HIV-positive residents in the Kibera slums of Nairobi just as the disease has increasing relevance in Russia.
Through May 17, Kiboko Projects - a New York-based, non-profit organization - is presenting an exhibition of five diverse projects created through workshops with artists, students and families in the U.S., Kenya and St. Petersburg, including displays of hand-painted masks, insightful photodiaries, and videos, at the Artists' Union of Russia Exhibition Center at 38 Bolshaya Morskaya Ulitsa.
Kiboko Projects, started in 1999 as a labor of love by Scheflen, a New York-based visual artist, has grown into a flourishing cultural organization that has since sponsored workshops, exhibitions, and cultural exchange programs on three continents. Its stated aim is to provide "opportunities for artistic and creative expression to individuals, some of whom have had limited access to this experience."
St. Petersburg was first introduced to a series of cultural exchange workshops organized by Kiboko Projects between children in America, Africa and Russia with "My Life ... My City," an exhibition put together in the run-up to the last summer's 300th anniversary celebrations. However, Kiboko Projects has since expanded its operational scope.
The current exhibition documents recent projects organized by the charity, as well as including elements from previous shows. The exhibition showcases compelling stories captured on video in Kenya, such as that of a family of children aged 13-18 orphaned by AIDS, a young woman who had turned to prostitution to pay her school fees, and a 29-year-old father of four struggling to ensure that his children will be taken care of after his anticipated death from AIDS.
Aside from the current show, Kiboko Projects is embarking on two new workshop series, in conjunction with Lions Great Bear, a non-profit association from St. Petersburg. This time Chechen war victims and their families, and adults and children with HIV/AIDS, will take part.
News source: www.sptimes.ru


Print this news
---
Culture news archive for 11 May' 2004.
Culture news archive for May' 2004.
Culture news archive for 2004 year.