Culture news
Henri Matisse's masterpiece "The Dance" on display in the Hermitage
05.24.2004 13:49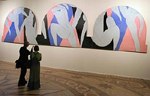 On 21 May an exhibition was opened in the Nicholas Hall of the Hermitage to display Henri Matisse's masterpiece "The Dance" (Paris version). "The Dance" (Paris version) is a large decorative panel which occupies a special place in European painting of the 20th century. It was commissioned in 1930 by the American collector Albert Barnes and is one of three versions created by Matisse between 1931 and 1933. It entered the Musee d'Art moderne in 1936. In 1992 the museum also acquired a sketch of "The Dance". One further version is found in the Barnes Foundation, Merion, Pennsylvania (USA).
The space available for the composition was rather complicated – lunettes above the windows in a room with arched vaults. Due to an error in calculating the dimensions, the artist was obliged to remake the entire canvas. Up until then Matisse's most important decorative works were the paintings "The Dance" and "Music" (1909-1910) for the Russian collector S.I. Shchukin. Using the motif of a circular dance, Matisse reinterpreted the choreographic scene and its participants as the building blocks in a decoration. The master set for himself the task of creating an "architectural painting" which would take command of the space allotted to it, a space which the artist compared to the portals of a church. In creating "The Dance" (Paris version), Matisse made use of a technique he had not tried earlier – "decoupages".
The exhibition is complemented by a display entitled "Matisse. The Images of Mallarme." The curator of this display is M.V. Balan, researcher in the State Hermitage's Section on Western European Art. Stephane Mallarme's "Poems" in the collection of the Hermitage constitute the master's first attempt to work in the field of art books ("livre d'art"). Matisse collaborated with him on this at the same time as he was busy working on "The Dance", i.e. in 1931-32. Matisse made around 60 illustrations in form of etchings, 29 of which found their way into the final version of the book, which was published in Lausanne in 1932. A "Livre d'art" is a variety of book that was distributed in the 20th century; it presupposes the artist's involvement in developing all the elements going into the design of the book- type, composition, the lay-out of the text on the page.
News source: www.hermitage.ru


Print this news
---
Culture news archive for 24 May' 2004.
Culture news archive for May' 2004.
Culture news archive for 2004 year.