Culture news
"Sagas about Icelanders" on display in the Hermitage
05.26.2004 11:50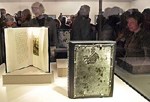 Four artists worked simultaneously on the creation of "Sagas about Icelanders". The book presented at this exhibition was rpinted only in ten copies, two of them were handed over to the Hermitage collection.
The odd-numbered copies are created using such materials as cowhide and sealskin, silver and copper-gold amalgam, and rock crystal; the even-numbered copies use cowhide, silver , copper and gold amalgam, ice quartz, and rock crystal. The book contains 48 prints, of which 40 were produced on separate sheets, as well as 46 sheets with calligraphy. Forty prints were made supplementally in five copies and bear Roman numerals.
Four artists worked simultaneously on the creation of this book. Yuri Borovitsky did illustrations for Egel's Saga using the mezzo-tinto technique. The illustration to Saga of Grettir by Boris Zabirokhin was done using the dry needle method. Mikhail Gavrichkov did the prints for the Saga about Gunnlaut, the Snake-Tongue using etching techniques.The prints for the Njal's Saga in the illuminated etching method were created by the artist Yuri Lukshin.
Texts in Icelandic and Russian languages by Moscow artist Yuri Nozdrin have become a decoration for the Saga about Icelanders. He used subjects from Eastern Slavic manuscripts of the 17th century. Pavel Ekushev and Viktor Nikolsky designed and produced the binding – a frame of solid cast silver, colored by a copper-gold amalgam and worked to reproduce motifs from medieval Icelandic ornamentation.
The Old Icelandic word saga means told, related and in antiquity the term was used to signify an oral tale. After written language appeared the word came to signify also written tales, and eventually came to mean a written narration of events from the past worthy of our attention.
Scholars speak of several categories of sagas. There are sagas about ancient times; episcopal sagas which tell about the history of life in Iceland during the 12th – 13th centuries; and false sagas about imaginary events. The group of sagas that is most original and interesting for readers is the one known as clan sagas, about the history of people from one clan. Another name for this group is the sagas about Icelanders, because the heroes are always people who lived in Iceland. Some of the clan sagas relate events which occurred in Iceland between 930 and 1030.
News source: www.hermitage.ru


Print this news
---
Culture news archive for 26 May' 2004.
Culture news archive for May' 2004.
Culture news archive for 2004 year.