Culture news
Venice and Venetian life in 18th century prints from the collection of the Hermitage
06.01.2004 14:33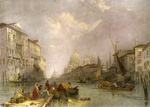 The exhibition featuring around 90 works devoted to 18th century Venice opened in the Twelve Column Hall of the Hermitage. Among the artists represented are Luca Carlevaris (1665 - 1731), Antonio Canaletto (1697 - 1768), Antonio Visentini (1688 - 1782), Giambattista Brustolon (1712 - 1796) and Michele Marieschi (1696 - 1743).
Luca Carlevaris was the first of the artists to have produced scenes of Venice in engravings. Later the publisher Domenico Lovisi issued an album with scenes of everyday Venice. Prints by unknown artists are invaluable first-hand evidence of street life in Venice.
Among the exhibits is a very rare series of prints in the mezzotinto technique which were made in the 1730ís by Bernard Vogel on the basis of paintings by the Swedish artist Johan Richter with very detailed genre scenes. There are also five works from a series of etchings prepared by the artist Antonio Canaletto; these are architectural capriccios.
The prints by Antonio Visentini are devoted to paintings of Venice by Canaletto. The emphasis is not so much on the city as on the artistís interpretations. In contrast to the classically balanced compositions of Visentini, the Venice we see in works by Michele Marieschi is subjective and romantic, with exaggerated dimensions of the buildings, which become unbelievably large in the prints.
The works by Giambattista Brustolon date from the second half of the 18th century. The figures of people resemble marionettes performing in a theatrical performance. This is the same period when Francesco Guardiís genius reached its peak. Guardi continued and developed the romantic tendencies of Marieschi. Though Guardi did not himself produce engravings, there were talented masters in this medium around him. Prints by Antonio Sandi and Dionigio Valesi are interesting examples of the last phase of urban landscapes in 18th century Venice.
The exhibition includes prints by Francesco Bartolozzi, Giuseppe Flipart and Giacomo de Leonardis, as well as paintings by Pietro Longhi and Domenico Tiepolo. The majority of the prints on display in the exhibition are being shown in the State Hermitage for the first time.
News source: www.hermitage.ru


Print this news
---
Culture news archive for 01 June' 2004.
Culture news archive for June' 2004.
Culture news archive for 2004 year.