Culture news
The man who reinvented chanson will give a concert in Saint-Petersburg
06.11.2004 14:30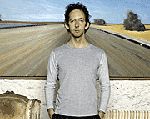 Arthur H - a big name in the French-speaking world even if not well-known in Russia, sometimes referred to as the "new Serge Gainsbourg," sometimes as "France's Tom Waits," will give a concert at Red Club on Saturday.
Son of singer Jacques Higelin and Nicole Courtois, Arthur Higelin was born in Paris in 1966. A solitary adolescent with no great taste for his studies, he left school at sixteen and went sailing in the West Indies for three months. His parents then sent him to Boston in the United States, where he studied music at university for a year and a half, but without much interest.
On his return to Paris, he started several bands with whom he played his first songs. But after a catastrophic début at the Printemps de Bourges festival, Arthur went back to the musical drawing board. Working his way through successive musical influences - Thelonius Monk, Tom Waits, the Sex Pistols, jazz, blues and the tango - he began to piece together a highly personal style.
In December 1988, Arthur H and English bassist Brad Scott put together a show for a three night booking at a small (60 seat) venue in Paris, La Vieille Grille. The show was such a success, they stayed on for three months. Audiences took an instant liking to the young artist's blend of humour, music and poetry. Two months later, the duo, along with drummer Paul Jothy, did a thirty day season at the Sentier des Halles. Critics raved about the pianist, with his cracked voice and echos of Boris Vian, Serge Gainsbourg and Tom Waits. that was the start of his successful career in music.
His first album "Arthur H" sold very well due to the promotional tours and rave reviews. Each of the thirteen tracks was a separate musical scenario, telling its own story in a fusion of jazz and pop. From 1989 to 1994, Arthur H gave more than 700 concerts and sold around 150.000 albums. Now an important artist in the French musical landscape, his magical world, full of surprises continues to attract a very wide public.
Arthur H came storming back into the French music news towards the end of summer 2000 with a fourth album entitled "Pour Madame X".
First and foremost a live performer, Arthur H has developed a deep musical relationship with his fans. In Saint-Petersburg concert, H, who plays keyboards as well as singing, will be backed by Nicolas Repac on electric guitar, Jarome Goldet on bass and Frank Vaillant on drums.
News source: www.rfimusique.com


Print this news
---
Culture news archive for 11 June' 2004.
Culture news archive for June' 2004.
Culture news archive for 2004 year.