Culture news
Neoangin: man of many talents
06.25.2004 12:25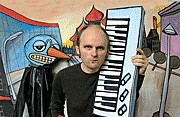 A frequent visitor to Moscow, he will make his first trip to St. Petersburg to spend a few days in a studio with the local ska band Dva Samaliota and perform at the band's bunker club Griboyedov.
In a recent exchange of emails, he described his music as "basically classical songwriting with some neoexistentialistic texts."
"But as I spent more than 10 years in all kinds of electronic music clubs that left its trace in my sound," he added.
"I would say it's a wild style mixture of song music with all kinds of weird electronic sounds and beats."
Avignon's quirky concerts frequently see him wearing colorful masks and decorating the back of the stage with paintings that he changes in the course of the show. "My shows are always very different from each other, so you never can predict how they end up," he wrote.
A prolific artist, he uses money that he gets from commercial jobs, such as designing cars (the new Rover) or a watch (Swatch), for radical exhibition projects, for instance, building a giant brain in a greenhouse, according to his official biography.
"Some of my ideas go straight into art and some into music and some into both," he wrote.
"Simply speaking, I do art more with the brain and music more with the heart."
Speaking about his musical influences, Avignon admitted that he is mainly interested in less popular names.
"Music has always been more influential to me than art," he wrote.
"I was more into new wave than punk in those days and more early hip-hop than Kraftwerk. I've never been looking for the big names. I'm always more into the small bands and half forgotten names. There are so many exciting things to discover."
Avignon borrowed his band's name from a medical preparation.
"It's a medicine," he wrote.
"Big red pills that you take when your voice is disappearing. Very sweet. There were times when I was addicted to them."
Avignon released a CD collaboration called "Gonki" with Moscow-based cult singer/songwriter Psoi Korolenko, which was launched at a concert in Moscow in April.
According to Avignon, he had listened to Korolenko's two CDs, but experienced difficulty finding out what his typically obscene lyrics were about. The collaborative work was done by correspondence.
"I got MP3s with only his voice and sometimes a little drum track on it," he wrote.
"It was a really difficult thing to find the right rhythms that fit his voice and I spent hours and hours cutting the voice and the rhythm track.
"I liked his voice a lot when I started doing it, and of course the idea of collaborating with someone you never met, and then it's the idea of two completely different maniacs doing a show together. I just was tempted a lot to do it."
According to Avignon, the record received some radioplay in Germany, but there are doubts if the performance will be repeated frequently.
"After the show we did together I wasn't too sure if we will repeat that too often because it came out that we are very difficult kinds of people," he wrote.
Avignon's other recent exploits include a book, which he describes as a "fake science handbook with pictures explaining the world from all aspects from religion to chemistry to philosophy," and a new issue of his magazine "Attack/Delay" with "more graphic stuff and photos and obscure ideas."
He is getting ready for some big exhibitions in Germany in the fall and a big festival in Singapore with 10 artists from Berlin which will also feature bands such as Stereo Total.
"[There is] no new album out yet but there will be one in August or September, so I arrive with many new songs when I come to St. Petersburg," he added.
Neoangin performs at Griboyedov at 10 p.m. on Sunday.
News source: www.times.spb.ru


Print this news
---
Culture news archive for 25 June' 2004.
Culture news archive for June' 2004.
Culture news archive for 2004 year.