Culture news
Unlocking Classical Brackets
07.16.2004 12:15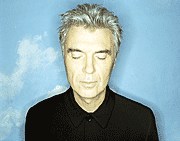 By Sergey Chernov
STAFF WRITER
FOR SPT
David Byrne, former frontman of Talking Heads, the band that revolutionized music in the late 1970s and the early 1980s, brings his My Backward Life Tour to Russia, performing a one-off concert in St. Petersburg, in between dates in Tampere and Stockholm. His most recent album, "Grown Backwards," saw the innovative musician and singer adopting a new songwriting technique, mocking the Republican Party and even singing opera arias.
"I think maybe I'm, of course, older, but maybe I'm still a little younger, in some ways," said Byrne about the album's title during the U.S. leg of his current tour, in a phone interview from a hotel in Grand Rapids, Michigan.
While working on the album, Byrne would hum bits of melodies that occurred to him into the mini-recorder, something that he has never done before, preferring to start from rhythms and textures.
"I work often at the beginning with melody, which is very strange for me since I always thought that as being kind of a typical Western-European approach," he said.
"In fact, it's a hierarchy; the melody's on top, and everything else is below that, like in a triangle. So, I thought of it as being, whatever, a typical imperialist form of music. This kind of music is kind of the musical equivalent of that kind of thinking in politics, in economics, so for the most of my life I stayed away from it, but I think music written that way does have a kind of a greater emotional resonance. I think that's what drew me to it this time."
The album features an ironic traditionalist anthem, "Empire," which Byrne wrote four years ago.
"It's difficult to write about politics, I think, because it's something that changes all the time," said Byrne. "I think that sometimes, if you want to make a comment on a particular issue or an event, it's maybe better to do that in a newspaper, or on posters in the street, rather than taking out advertisements in newspapers with other musicians, because then you can do it very quickly - just react to a particular event.
"This particular song, of course, is completely ironic, which in a way makes it very difficult, because almost everything it says is the opposite of what it's meaning. And yet, because the melody is quite typical for this kind of anthem, it's also very good to sing to. [Laughs.] Yes, it creates this sort of good feelings when you sing it, but of course I'm trying to criticize that at the same time."
Byrne who was seen performing a brief, four-song set with Talking Heads at the band's induction into the Rock and Roll's Hall of Fame in 2002 does not like to discuss the band's possible reunion. Nonetheless, he throws a bunch of his Heads-era songs into concerts, finding that some of them sound oddly relevant these days. Take, for instance, "Life in Wartime."
"Some of the songs that I wrote a long time ago seem oddly prescient," said Byrne. "It's a song almost from the point of view of urban terrorists; it talks about car bombs, and all this kind of things are mentioned in the song. But, the really strange thing is, of course, when we play a song which has this subject - it is really about what is going on right now, and, of course, everybody's dancing. So, the song presents this really strange image: the words, and the audience dancing to it."
From songs on the new album that Byrne enjoys performing live, he cites "Dialog Box" and "Why."
"I like ['Why'] because I make allusions to chaos theory and particles going around this nucleus of an atom, and all these kinds of things," he said. "And then in the end I make a connection with a relationship. Two people meeting in a supermarket - this kind of thing. For me it has a kind of a beautiful melody, almost like a melody from a very old song, and then it brings together chaos theory and a personal relationship. I thought that was a very funny but in a way very moving combination of things."
Apart from Byrne's own material, "Grown Backwards" features two opera arias, "Un di Felice, Eterea" from Giuseppe Verdi's "La Traviata" and ''Au fond du Temple Saint'' from Georges Bizet's "Les pecheurs de perles.''
"OK, I can get some criticism here," he said. "I think I felt that I could maybe treat them just as songs, which maybe they were originally. They've been kind of locked up in an opera house, and I thought, 'Oh, maybe I can treat them more or less as songs, I could give them a techno treat or anything like this, but I'm not going to try to sing it with an opera voice. And not do it with a full orchestra but just do it with a small chamber group.' So, I thought, 'Why not? It feels good, they are beautiful songs, and I can maybe treat them as the beautiful songs that they are.' And maybe emotionally it unlocked some of the other songs on the record also."
Byrne, who brought his "Evidence of Human Habitation" exhibition of photos to St. Petersburg in 1995, says that visual arts allow him to express things that music does not.
"I think there are certain things that are just impossible to do with music," he said. "I mean sometimes to express something in words, in a song, it would be too direct, but doing it in images you can leave a certain amount of ambiguity, which is very nice."
"I remember St. Petersburg being beautiful and very energetic, but I know it was a kind of a strange time for the artists," he said. "It was a decaying, transitional time - for the artists and musicians anyway. But, I don't know what has happened to the music and art now."
David Byrne at the Manezh Kadetskogo Korpusa at 10 p.m. on Saturday.
Links: www.davidbyrne.com .
News source: times.spb.ru


Print this news
---
Culture news archive for 16 July' 2004.
Culture news archive for July' 2004.
Culture news archive for 2004 year.