Culture news
Electrifying the '80s with zoot
07.23.2004 14:40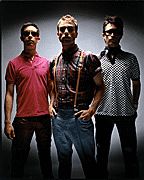 By Sergey Chernov
Zoot Woman, a U.K. electronic trio, writes what are initially good pop songs, their mood shifting from melancholic to euphoric, and then disfigures them with every possible break and beat to leave the tracks even more memorable.
Coming to St. Petersburg on the strength of their second album, "Zoot Woman," the band's lyricist, guitarist and singer Johnny Blake claims the band, which has been frequently described as being part of the 1980s revival, is becoming more able to express themselves.
"With the '80s, erm... Yeah, it all is very true, but I think it's not much true of us anymore," said Blake speaking on the phone from outside the band's rehearsal room in Reading, near London.
"With 'Living in the Magazine,' our debut album in 2001, that was very much rooted in the '80s revival - not just that our songs were a little bit more '80s, our look was a little bit more '80s. But I think with the second album we want to try and be ourselves a bit more. It's a much more natural progression, it's not so 'Here we are, this is the '80s revival...' And even with the third album that we're working on now, we're moving away from the '80s. But, I think when someone gives you that label, 'the '80s,' it's kind of hard to get away from, because we're an electronic act, there's always an element of '80s, because that's kind of where the roots are."
Zoot Woman formed in Reading in 1995, where two Blake brothers, Johnny and Adam, who play keyboards, and bassist Stuart Price grew up and went to the same school.
After the band released its first, self-financed single, Price left to join the 1980s-inspired dance band Les Rythmes Digitales, where he became renowned under the moniker Jacques Lu Cont, but returned to record Zoot Woman's critically acclaimed debut album, "Living in a Magazine" which came out in summer 2001.
Both the music and their image - white suits and makeup - designed by stylist and fashion designer Fee Doran, ignited a massive media interest, but on the threshold of the band's big breakthrough the Blake brothers were left alone again when Price left, this time invited by Madonna, to become musical director on her 2001 Drowned World Tour. While the Blakes went on to play live without Price, he returned just in time to work on the band's second, eponymous album, which came out last September.
Zoot Woman has emerged from a mix of very different influences. According to Blake, he has always liked 1960s music, from The Beatles to Rod Stewart, and at the same time The Cure and Depeche Mode, citing the latter as his all-time favorites. Meanwhile, Adam was more into the 1970s prog-rock thing as well as The Who; and Price's tastes lie with The Stranglers and The Pixies.
Even if Zoot Woman's songs - unlike those of many other electronic/dance acts - still make sense when played on acoustic guitar, it's the production work by Adam Blake and Stuart Price that render them unique, according to Johnny Blake.
"We always try to write traditional pop songs and attempt to modernize. We always add our own sound which leans towards an electronic sound, but the structure of the songs is traditional, and I particularly like keeping to that," he said.
"But from the production point of view I think we always felt that going to an electronic field lifted the songs, it made them more interesting and more unique for us as a band."
Zoot Woman will perform as part of the Olmega Fire Party on the beach of the Peter and Paul's Fortress at 11 p.m. on Friday. Links: www.zootwoman.com
News source: www.times.spb.ru


Print this news
---
Culture news archive for 23 July' 2004.
Culture news archive for July' 2004.
Culture news archive for 2004 year.