Culture news
Letters show language of art needs no translation
07.29.2004 13:21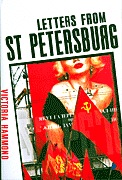 ST PETERSBURG TIMES
By Robin Munro
STAFF WRITER
FOR SPT
On the face of it, Australian art curator Victoria Hammond seems not particularly suited to writing a book about late 1990s Russia, mainly set in St. Petersburg. She doesn't speak the language, and misses out certain themes altogether.
Describing herself as an Australian schooled in traditions of liberal democracy, feminism, and postmodernism, how could she possibly understand a society that often keeps its true face hidden and where many of the population are unreconstructed Homo Sovieticus?
The book records times of naÔvety.
"I tell them that in Australia women are equal with men and sometimes don't need husbands. Occasionally the man stays at home and looks after the child while the woman works," she tells a group of friends.
The men in the group look appalled, she records.
Nevertheless, her views do appeal as refreshing and her perspective, as a woman from Down Under, different to that of many other books about Russia.
"The Japanese gentleman on my right sitting down to a gelatinous lunch of king prawns and trout with nuts has done so since before European settlement of Australia [1788]," she writes, reminding the reader that 300 years is young for a European city, but not for locations in the New World.
Hammond's lack of language makes her a kind of representative of the floods of foreigners who briefly visit Russia. Her shortcomings in this area put her in situations that we all dread; once having lost her notebook and not sure where she is her pitiable plea for help is the only words she knows: "Gde musei?" (Where is the museum?).
She is oblivious to politics. She records - clearly incorrectly - that Mikhail Kasyanov was the prime minister, although she says that during her stay she heard the shots that killed city property head Mikhail Manevich. His assassination in August 1997 and her time in Russia were before the re-denomination, when the ruble lost three zeros off its face value.
However, Hammond's lack of Russian is well compensated for by her knowledge of the arts, her insight and her empathy for the plight of ordinary people.
There is a marvelous musing from her friend's husband about the fate of the cultural life of St. Petersburg: "I often ask myself if St. Petersburg still exists. I say to myself, what is a city? Is a city a place and its buildings, or is a city its people? If the life of a city is its people, and its buildings and bridges the empty stage where people enact their lives, then St. Petersburg no longer exists."
Hammond herself can muse quite ably about the formation of the city with its classical center and dispiriting outer suburbs.
"Peter [the Great's] broad prospects with their vistas stretching into infinity symbolize hope and possibility," she writes. "Stalin created the very opposite of a liberating environment - spaces of psychological entrapment. The buildings around me are designed to dull the mind with standardization and endless repetition, to block the view. It's a way of life with no prospects."
Hammond is certainly interested in relationships, links both contemporary and historic.
"There was something of the warrior queen about Catherine [Peter the Great's wife]," Hammond writes. "She always accompanied Peter into battle. So it's not entirely incongruous that Peter, who was so in love with knowledge should have loved a woman who was illiterate."
What the book suffers from are Russian spellings, which were not properly proofread. Kunstkamera is strangely referred to as the Wunderkammer.
Or, there are the tangential glitches in the narrative, such as the perfectly offbeat excursion into the metro after Hammond becomes sexually aroused, observed by a military man as she tries on some boots.
However, such discrepancies can be overlooked, since the retelling of the history of the Kunstkamera exhibits, the descriptions of sites linked to Nabokov and Dostoevsky, and Hammond's examination of the merits of the restored palaces all help to make this book a worthwhile read.
Letters from St. Petersburg, by Victoria Hammond, published by Allen & Unwin.
News source: sptimesrussia.com


Print this news
---
Culture news archive for 29 July' 2004.
Culture news archive for July' 2004.
Culture news archive for 2004 year.