Culture news
Erotic Museum 'Remembers' Rasputin
08.06.2004 13:19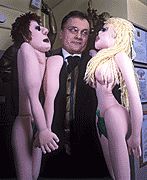 ST PETERSBURG TIMES
By Yuriy Humber
STAFF WRITER
FOR SPT
An Erotic Museum in the middle of St. Petersburg? The metal plaque with the admittedly artistic, yet nonetheless raunchy logo of a 19th century professor-type and three naked ladies inter-linking their limbs at splendid angles, certainly causes a double-take as one strolls along Furshtatskaya Ulitsa. Yet, it is apparently a sign of the times.
For years, the Moscow mausoleum had chosen to preserve the country's great communist leader, Vladimir Lenin, doused in a balsam solution. Now, in a St. Petersburg prostatology clinic, which doubles up as Russia's first and only Erotic Museum, it is the genitalia of the great mythic healer (also drunk and disreputable debaucher) Grigory Rasputin, that is being preserved inside a jar.
This pickled member is just one of the 10,000 toys, statues, and figurines representing human private parts in the collection of Dr. Igor Knyazkin, the head doctor and originator of the Prostatology Center and its Erotic Museum. During the five years of the museums' existence, the collection has grown so substantial that only a tenth of it is on display at the clinic.
"The goal was not to shock anybody," explains Head of Research at the clinic, Dr. Gleb Gurko. "Men and women who come to us are gloomy and embarrassed. To have to come to a doctor has already made them feel uncomfortable. Then they arrive, they see these cheerful exhibits and their mood lightens. When they start to tell the doctor about their ailment they are already at ease and it is much simpler to get the problems understood and sorted."
Strolling around, it is unclear where the clinic ends and the museum begins, so opulently are the corridors, shelves, and walls adorned with tantalizing images. Even the toilet's decor, as well as wall mirrors, includes "Toilet.Cam" posters depicting all the titillation a mind may desire to see in a cubicle.
With such a palette for the inquiring mind, how does a patient remember what brought them here?
"Oh, our staff are very professional," comments Gurko, as a smiling nurse in a short white uniform dress walks by. "But, generally, many of our patients show a positive interest in the exhibits, asking questions about them, where they are from, and so on. Some people also ask if they too can donate something to the collection, postcards or some figurine or toy that they appropriated on their travels."
Although feedback from patients and the museum's visitors have been overwhelmingly positive, there have been extreme cases.
"Some people have got this idea from the Rasputin exhibit that I am a penis collector of some kind," sighs Dr. Knyazkin. "I get phone calls from people asking how much I would pay them if they cut their own member off for the museum. In one horrific case, a man offered me the dissected penis of his dog."
Dr. Knyazkin strongly resists any portrayal of him or his museum as perverted, or even as pure titillation. Instead he wishes society was more honest when dealing with intimate and sexual matters. It would, he feels, eliminate the awkwardness, double standards and hypocrisy surrounding the human body today.
"In Russia, there is still such an ignorance about the topic," says Dr. Knyazkin. "Once, a pensioner arrived and tried to smash open the jar with the phallus of Rasputin in it. He was full of rage, shouting that it should be destroyed, burnt, that it was unholy to keep such a thing.
"But, when I was in Novgorod, a priest took me to the basement levels of a church. He showed me a collection of jars. What was inside them? The private parts of saints associated with the church!
They are still being kept there. And what about the bodily remains of saints the Catholic Church specifies for worship?"
Coincidentally, many of the visitors to the museum and clinic take an interest in Rasputin's' jar display and believe that certain powers of the supposedly skillful lover are transferred to them. Dr. Gurko refutes this as fostering a kind of idolatry at the clinic:
"It's not like we tell people to go and rub Rasputin's jar, and it'll bring you great fertility, or anything like that. It's just that every person needs something to believe in - in order to live more peacefully."
And for future presentation?
"I have been offered to take part in a private auction for a jewelry box, staged by Christi's in London," says Dr. Knyazkin. "The contents are supposed to be the private parts of Joan d'Arc."
Laughing loudly, he adds: "I know, I can't believe it myself."
The clinic, currently located at 47/11 Furshtatskaya Ulitsa, plans to transfer the display to a museum in the near future. For now, entrance is free for patients, or for casual visitors who purchase something from the clinic's pharmacy.
News source: www.times.spb.ru


Print this news
---
Culture news archive for 06 August' 2004.
Culture news archive for August' 2004.
Culture news archive for 2004 year.