Culture news
Moscow Sculptor's Gallery Plans Fall on Stony Ground
08.10.2004 11:31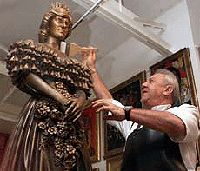 ST PETERBURG TIMES
By Galina Stolyarova
STAFF WRITER
Moscow's "court" sculptor and the rector of the Russian Academy of Fine Arts, Zurab Tsereteli, has offered to create a Museum of Contemporary Art in St. Petersburg.
"I have already opened three such museums in Moscow, and I now want to establish one here," Tsereteli said during a visit to St. Petersburg last weekend.
Tsereteli's vision of the museum is that it should represent the last century of Russian art, from the avant-garde to the present day. The sculptor, who is looking for a building to accommodate the collection, wouldn't elaborate on sources of funding for the project.
Patronized by Moscow mayor Yury Luzhkov, and often criticized for his overblown, ostentatious creations, Tsereteli is infamous for his ambitious costly projects, which have on several occasions gone nowhere.
Tsereteli's has offered his giant works as presents to cities across the globe. But the scale and might of his projects appear frightening to many potential recipients, who often refuse the gifts.
His statue of Columbus made 12 years ago was rejected by five U.S. states because of its bulk and aesthetics. The sculpture is twice as high as the Statue of Liberty without her pedestal. Similarly, the state of New Jersey never accepted a titanic tear drop, "The Tears of Sorrow" in commemoration of the Sept. 11 2001 attacks, which offered as a present this year.
Last year, Tsereteli promoted a plan to present St. Petersburg with a huge park full of his works, including 74 life-size busts of Russian Tsars and princes, 120 lanterns and benches, a fountain, a memorial chapel containing a metal book bearing the names of victims of the World War II Siege of Leningrad, and a statue of Peter the Great. The idea collapsed as no one could be found to cough up the $15 million essential for the project to take shape. Tsereteli, whose works have sprouted around the Russian capital, enjoys strong support from the Moscow authorities. Luzhkov is the sculptor's close friend.
Therefore, it is hardly surprising that the three Moscow museums of modern art are co-owned by Tsereteli and the Moscow city government. The museums house a substantial amount of Tsereteli's own art, which, as arts historian Natalya Milovzorova, of the Marat Gelman Art Gallery in Moscow, points out, are not identified.
"This is not a very modest thing to do," she said. "Arts critics can reasonably easily figure this out but ordinary visitors would be perplexed."
The general public has been much less enthusiastic about Tsereteli's art than the Moscow authorities. His giant 94-meter high bronze monument of Peter the Great installed on Sept. 5, 1997 on the Yakimanskaya embankment in Moscow as part of the celebrations of Moscow's 850th anniversary was branded Godzilla and caused a wave of protests. Many people demanded that the colossus be dismantled, while more extreme protesters plotted to blow it up.
Irina Kukovitskaya, head of the exhibitions department of city's Yelagin Palace Museum, welcomed Tsereteli's proposal for the museum, but said she wished Tsereteli would not call the shots on the development.
"It is not just about bad taste, it is also about lacking vision," she said. "Ideally, one should just ask living artists to pick their favorite works and make suggestions."
A museum has to have a soul, but if it is only about bragging then it never does, she said.
The three Tsereteli museums in Moscow have been criticized for chaotic representation of art and the lack of a consistent concept, she added.
"It is a total, highly confusing, mish-mash of names and styles," Milovzorova said. "Having works by Joan Miró and Salvador Dali is, indeed, prestigious, but displaying them alongside items of questionable value by little-known artists produces a bizarre impression. A visitor to these museums is unable to get a clear idea of the development of modern art over the past century."
Local artist and designer Nika Dranitsyna, said Tsereteli's initiative is set to be but one of several modern art museums, which, she believes will flourish in St. Petersburg in the future.
"I feel that Tsereteli's taste is out of sorts with the St. Petersburg mentality, but this museum, if it appears, is not going to affect the state, or development of modern art in our city," Dranitsyna said.
News source: times.spb.ru


Print this news
---
Culture news archive for 10 August' 2004.
Culture news archive for August' 2004.
Culture news archive for 2004 year.