Culture news
Director Klapisch Shoots "Russian Dolls"
08.13.2004 12:17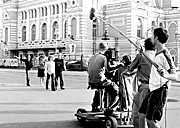 ST PETERSBURG TIMES
By Sophia Kornienko
STAFF WRITER
Photo by Znaky Productions / FOR SPT
In his sequel to "Euro Pudding," Cedric Klapisch has chosen St. Petersburg to represent one facet of modern Europe.
French film director Cedric Klapisch wrapped up filming the St. Petersburg scenes of the sequel to his hit film "L'auberge espagnole," or "Euro Pudding" (2002) in the city last week - and took time out to explain why he chose Russia as one of the locations for the new film.
The second film in the series, "Les poupees russes," literally "Russian Dolls," also features a Russian ballet dancer playing a leading role.
The original film, "Euro Pudding" (titled "Pot Luck" in Britain, "Una Casa de Locos" in Spain and "The Spanish Hotel" in the U.S.), was nominated for the 2003 Cesar Award for the best film, best director and best script. Called by critic Roger Ebert of Chicago Sun-Times "as light and frothy as a French comedy, which is what it is" and "refreshingly frank," the film looked at themes of identity in contemporary Europe through the story of a twenty-five-year-old Frenchman, Xavier (Romain Duris). Xavier passes through a one-year internship in Barcelona learning Spanish so that he can become eligible for a job at the European Council's office in Paris. He has difficulties leaving his home and girlfriend Martine (Audrey Tautou from "Amelie") in France, and plunges himself into a genuine "paella" of cultures at the apartment he rents together with six other exchange students, from Spain, England, Belgium, Germany, Italy and Denmark. An American attempts to join the melting pot, but, tellingly, doesn't mix.
Xavier soon realizes it is neither Martine nor the bureaucratic job that he really wants. The cultural mix around him awakens a quest for his true self.
At the end of "Euro Pudding," Xavier decides to become a writer, piling up books and notepads on the desk at his parents' house.
In all of Klapisch's films, even the least important characters are made memorable and symbolic. Klapisch attributes his love for symbolism to his mathematical view of the surrounding world, possibly cultivated in him during the philosophical studies he pursued in France prior to choosing to become a film-maker. Klapisch lists Russian philosophical works among his favorites.
True to his symbolic system, Klapisch stretches the plot of the new film beyond the borders of the European Union and brings the cast of characters from the first film to St. Petersburg, where one of them - William from Britain (Kevin Bishop) marries a Russian girl Natasha, played by ballet dancer Yevgenia Obraztsova.
"What I wanted to say was really about the new Europe," Klapisch said during a short break between the scenes on the upper deck of the large old restaurant boat Lyudmila. "When you're young, you don't want to be like your parents. You want to invent a new life. And you don't want to grow up."
At the age of the characters in the series, Klapisch had already graduated from New York University's film school and was making his first steps in the industry. The idea of portraying the new generation of exchange students struck Klapisch when he was visiting his sister, seven years his junior, during her studies in Barcelona.
With most of the characters from "Euro Pudding" returning in "Les poupees russes," the new film's dynamic derives from the same pieces of contemporary Europe, represented by the international characters attracting and repelling each other.
Klapisch chose Russia because it is a place where things are changing very quickly, but it also continues to bear the mark of the past, he explained. The true identity of Europe is about both the old and the new, and St. Petersburg suited the picture, as it is both the history of Europe and the future of Europe, he said.
"I want the film to be called 'French Matryoshkas' in Russian," Klapisch said, emphasizing the idea that the best things in life arrive only after a long determined search, like the final doll inside the nesting set.
Klapisch feels that Russia is fast going "yuppy" and that St. Petersburg today is similar to Spain about 15 years ago.
As if to better reveal the seamy side of St. Petersburg's ceremonial attire, the soundtrack to "Les poupees russes" will feature two songs by the city's laid-back underground group Markscheider Kunst. The group's recent album "Krasivosleva," sold well in Europe.
By coming to Russia, Xavier and his friends, now thirty-year-olds, take a broader view at what Europe really is, unpeeling its contradictions like the dolls of its title. Xavier has indeed become a writer, Klapisch said, but a more realistic version of a writer than he intended at the end of "Euro Pudding" - he has become a journalist and travels to Russia to complete an assignment. But the image of matryoshka dolls is also about the girls Xavier finds, Klapisch said. After going through the whole set, he finally gets his hands on the smallest doll, who becomes his ultimate choice - Wendy from Britain (Kelly Reilly).
Meanwhile, critics accused Klapisch of becoming too abstract in depicting his characters in his latest release, "Ni pour, ni contre (bien au contraire)," where the director attempted to imitate the classic gangster genre of film noir. While in regular films noir, gangsters are shown as appealing adventurers, Klapisch presented them as symbols in a play of cause and consequence.
Klapisch likes the cast to not just reflect the nature of their characters - every actor personifies an abstract element in the film universe. In Klapisch's current work, those elements are countries. The actors personify their native countries and speak their native tongues, lending a colorful authenticity to the many subtitled dialogues.
Klapisch literally bridges the less Euro-integrated Britain and Russia with France. Russia is personified by the ballet dancer character played by Obraztsova, named Natasha. Klapisch said he made Natasha a ballet dancer because Russia is related to perpetual movement. "It may have also been the cliche of Russian ballet and the Russian ballet being attached to traditions," he said.
Obraztsova, a Mariinsky Theater dancer in real life, said that by playing Natasha she tried hard to convey to her western colleagues about how developed Russia used to be prior to the Bolshevik Revolution.
"They think Russia is about communism. And I want to show it to them how beautiful and delicate Russia can be," she said, waving her hands emotionally and wearing a traditional white bridal dress for scenes in which Natasha is depicted getting married.
Obraztsova was invited to meet Klapisch in March, but did not go, as "it was too early in the morning", she said. Klapisch then himself came to the Mariinsky to see her at a rehearsal before the first night of Yury Grigorovich's "Legend of Love", in which Obraztsova has a solo. She was given the part shortly afterwards.
Obraztsova said Klapisch was very easy to work with. "He generates this sincere desire to always do exactly as he says," she added. Obraztsova will travel to London, where filming will continue this year.
In a curiously relaxed working atmosphere, with Klapisch radiating smiles at his crew and the mix of languages on board of the boat, even the shabby Lyudmila seemed like a Mediterranean cruise ship. Also on board was Cesar Award winning actress Cecile de France, reprising her portrayal of the stunning Belgian lesbian Isabelle from the first film. In "Euro Pudding," Isabelle gives Xavier an expert lecture-cum-demonstration about what really turns a woman on. In "Les poupees russes," which is scheduled to hit the screens in April 2005, Isabelle also tries finding a woman for herself.
"We all play that game of Russian dolls," Klapisch said.
News source: times.spb.ru


Print this news
---
Culture news archive for 13 August' 2004.
Culture news archive for August' 2004.
Culture news archive for 2004 year.