Culture news
All booked up
09.07.2004 14:25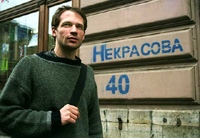 St Petersburg Times
By Sergey Chernov
Staff Writer
Photo by Natasha Danchenkova / FOR SPT
Founded by the same people who are behind the capital's Project OGI, Platforma, a new, round-the clock club, is a Moscow cultural export, but, judging from its approach and program, it may drastically change the St. Petersburg club scene.
Platforma, which opens this weekend, is aimed at filling a similar niche as that of the legendary Moscow club, after its promoters noticed the need in St. Petersburg for a "certain intellectual/cultural place based on drinking and musical/literary entertainment," as Nikolai Okhotin, Platforma's art director and co-owner, puts it.
The idea of Platforma started to form when the once Moscow-based author and the club's co-founder Slava Kuritsyn moved St. Petersburg last year.
"He noticed that the current metaphysical state of St. Petersburg is largely similar to that of the Moscow of five or seven years ago, when a group of people with similar views, interests and tastes craved for a place where they can meet. But there was no such a place."
Opened in late 1998, Project OGI, a club comprising a stage, book store and bar, was oriented toward artists and intellectuals and featured rock, jazz and experimental concerts, literary readings, performances and film screenings. The club took its name from OGI Publishers, which became partners in the venture.
"OGI didn't have enough places to sell its books, so the idea was that 'We have a club and we can sell books there,'" said Okhotin.
"They were interested in selling books, and we were interested in their financial support. Then it turned out that the public that we were aiming at found it interesting."
However innovative in the beginning, the OGI concept, Okhotin said, lost some of its freshness in Moscow, where a number of similar clubs then emerged, including Bilingua, Klub Na Brestskoi, Apshu and Gogol.
"The public started to divide between these joints, and the concentrated atmosphere went away, so it became clear that the initial idea should be modified, or, more likely, you should start afresh," he said. Platforma, with a capacity of between 250 and 350 people, is owned by a group of arty people on he one hand and a local businessman, only identified by Okhotin as connected to publishing, on the other.
According to Okhotin, Platforma welcomes a mix of generations.
"I think that for people under 17 or 18 it would not be interesting (there are different places for them), but there is no upper age limit; until a person can't walk on his own I think it will be interesting for him here."
While the crowd at such local clubs as Tsinik and Datscha has a tendency to grow younger, Okhotin said this problem can be dealt with.
"We experienced this problem in Moscow and know what to do about it," said Okhotin.
"[Club owners] invent a good project in many respects but don't make any efforts to develop it. The project must live; it should not stay as it started but move and develop. "[The owners] find some peculiarity and stick with it, but the novelty soon wears off. The old public leaves and usually youths arrive because they hear it's a trendy place - even if it's not been trendy for six months."
"Face control," or a door policy, will be introduced at Platforma, but not in the sense that other club managers use it, according to Okhotin.
"It's not a dress or face code as such, but we plan to exercise some rather careful human sifting," he said.
"A person belonging to the public that interests us can arrive in a track-suit drunk and still be let in, while a very different person can come sober and well-dressed but won't get in."
The club's music program has been compiled to include diverse musical genres, with concerts by both Russian and foreign artists.
"We are not a rock club, a punk club or a jazz club; everything can mix here," said Okhotin.
"The only criterion is that it should be interesting for our audience. Roughly speaking, it's what relevant and interesting now. For instance, in Moscow's OGI we helped to introduce such bands as Leningrad or Psoi Korolenko, who only were starting out at the time. We immediately realized that they were relevant for our audience."
Okhotin said that there are not enough concerts by western bands in St. Petersburg, and Platforma is set to deal with it, bringing a western band approximately once a month. When visited last week, Platforma's interiors were under construction, but Okhotin said there would be no flashy lights or any other nightclub features in design. One room in the club will function as a bookstore.
"We profess the absence of any design," Okhotin said, discussing. "In reality, it means that there is a design but it's absolutely unobtrusive, it's non-design. When a person enters, he understands that he didn't come into a designer club. Unobtrusive, quiet settings, but with its own features and recognizable."
The prices at Platforma will be moderate, with a shot of vodka costing 30 rubles at the bar, while concert tickets will be between 50 and 300 rubles.
Contrary to early reports, the opening on Saturday will be an invitation-only party. Platforma starts functioning in full on Sunday, when a poetry evening is scheduled. For the event the club will bring in a number of Moscow poets, including Timur Kibirov, Lev Rubinshtein and Sergei Gandlevsky.
On Sept. 10 the club will host British authors Irvine Welsh, Dougie Brimson and Isabel Wolff for an informal meeting with readers at 12 p.m.
Platforma is located on 40 Ulitsa Nekrasova. M: Ploshchad Vosstaniya. Tel.: 110-6303.
News source: sptimesrussia.com


Print this news
---
Culture news archive for 07 September' 2004.
Culture news archive for September' 2004.
Culture news archive for 2004 year.