Culture news
Dramatic changes
09.16.2004 14:35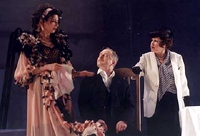 By Galina Stolyarova
Staff Writer
For SpT
At least two local drama theaters open new seasons this month with new leaders on board. The Bolshoi Drama Theater (BDT) opens its season on Friday with a new principal director, while the Komissarzhevskaya Drama Theater has invited a guest principal director - the first such appointment made in St. Petersburg's theater history. Both artists, however, are not new to their troupes.
The BDT's Temur Chkheidze, who is responsible for a number of productions in the company's repertoire, was first offered the job of principal director of the company fourteen years ago, shortly after the death of Georgy Tovstonogov in 1990. Tovstonogov's "Woe From Wit" (1962), "The Idiot" (1966), "Inspector General" (1972), "Story of a Horse" (1975) and "Tarelkin's Death" (1983) gained the troupe nationwide fame.
There were hopes to find an adequate replacement, but until one was found, it was decided that an "acting artistic director" would temporarily concentrate efforts on preserving the legacy of the legendary director. But as the years went on, the troupe and its home aged.
It and is now weak and unconvincing, and lacks the precious ensemble which once made it so famous.
There are remarkably few young actors in the company - something that Chkheidze says he will change.
"We have a strong troupe but we have to constantly bring new young talent in," Chkheidze said.
"Somebody can stay, somebody can go, but it is crucially important for every director and actor to find their stage and their company."
The director said six or seven recent graduates of theatrical schools will join the BDT in the coming season.
Chkeidze is also planning to change the BDT's recent tendency of using plays as star vehicles.
"There are many most talented performers in the company, but I am not going to exploit their names," he said. "I start by choosing a play, not by choosing an actor and trying to suit their demands."
Three premieres are scheduled for this season, including Leonid Andreyev's "Katerina Ivanovna," Lev Tolstoy's "The Power of Darkness" and Ronald Harwood's "Quartet." Chkheidze himself will stage the Tolstoy play, while director Nikolai Pinigin will be responsible for the two other productions. Kirill Lavrov, who had been performing the late Tovstonogov's duties up to the end of last season, will perform the main role in "The Power of Darkness." The venerable actor, who remains BDT's artistic director, turns 80 next year.
Experimental Bulgarian director Alexander Morfov is already familiar with the Komissarzhevskaya Drama Theater, which opened its new season on Sept. 4. His bright, innovative renditions of Shakespeare's "The Tempest" and Moliere's "Don Juan" have gained the company high critical praise on international level and were enthusiastically receieved by audiences. The theater has created a new job specifically tailored for Morfov. The post of principal guest director hasn't really existed in St. Petersburg theater but has been invented as an analog to "principal guest conductor," familiar to the classical music world.
His contract obliges the director to stage a minimum of one new production a year as well as keep an eye on existing shows in the repertoire, amending them if necessary. Morfov will also be consulting Komissarzhevskaya's artistic director Viktor Novikov on all aspects of the company's repertoire and general direction, from extending an invitation to a particular director to offering a role to a certain actor.
"It is hugely important for us to have him here, as Morfov is a great asset indeed, being one of the most gifted young directors," Novikov told Izvestia newspaper this week.
"He will be spending up to six months in St. Petersburg every year ... It has also been agreed that he will not work with other local companies for the duration of his contract."
Morfov is expected to arrive in town later this month to start working on his version of Berthold Brecht's first play "Baal." Other premieres to expect from the Komissarzhevskaya Drama Theater this season include Alexander Isakov's take on Viktor Shenderovich's comic play "Schweizer's Namesake," Krasnoyarsk director Alexander Belsky's interpretation of Poyarkov's "The Little Tatar" and Georgy Tovstonogov's (the grandson of the famous BDT leader) rendition of St. Petersburg poet Linda Yonenberg's play "Morock."
News source: sptimesrussia.com


Print this news
---
Culture news archive for 16 September' 2004.
Culture news archive for September' 2004.
Culture news archive for 2004 year.