Culture news
Collective face
09.28.2004 12:09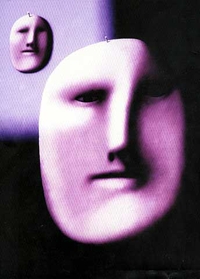 St Petersburg Times
By Larisa Doctorow
Special to the St Petersburg Times
For SPT
This year marks a couple of milestones for the Russian emigre painter Oleg Tselkov: his 70th birthday and, as of last week, the mounting of a one-man retrospective of his work at the State Russian Museum.
Although he has lived in Paris since 1977, Tselkov's name and work are familiar to St. Petersburg audiences thanks to three exhibitions of Russian painters living abroad which the Russian Museum organized in 1996, 1998 and 1999.
The new show, at the museum's Marble Palace space, presents 22 paintings executed by Tselkov in the last 15 years and continues a policy of showcasing recent works by living Russian artists.
"Future generations will judge our time through many things, and art is one of them. It reflects reality." Russian Museum director Vladimir Gusev said at the opening of the Tselkov show. "Contemporary art is a mirror of life. Oleg has created a portrait of his contemporaries."
Tselkov's early career in the U.S.S.R. took him away from the path of officially approved art, and he was rejected by the art establishment. He was born in Moscow and began studying art in Minsk but was expelled from art school. Next he was turned out of the Leningrad Fine Art Academy in what is now St. Petersburg.
"Imagine a soldier who steps out of the line. He is reprimanded, punished. The same happened to me," said Tselkov. "It had nothing to do with the paintings. I just refused to follow the rules of the official art."
Eventually Tselkov managed to graduate from the Leningrad Theater Institute, but run-ins with the authorities over his non-conformist art continued and he remained in the underground until his eventual emigration to France in 1977.
During the last half-century Tselkov has completed over 200 paintings. Throughout this body of work there is remarkable continuity and Tselkov's works have one subject: the face. However, Tselkov's face is an abstraction. The development of this subject began in 1960 when Tselkov was engaged in painting a conventional portrait.
"Quite unexpectedly I depicted on the canvas a portrait, but not of one person, not some common portrait." Tselkov said. "He was strange, this personality, because he looked as if he fell from the sky, without any relatives or friends. He was a loner. An abstract man. I depicted the whole of mankind in one face. The mankind which was familiar to me."
Tselkov's anonymous, hairless creatures, with heads comprised of narrow foreheads, big chins and small slits for eyes, set on thick necks, fill his canvasses. It is nothing less than a portrait of Soviet collectivism.
In his unfinished autobiography the painter wrote: "We are these creatures - a flock of sheep, a flock of crows, a herd of swine who would go to the holy wars or to the bloody uprisings or work from morning until night for the sake of a great future. We have lost our faces." Tselkov's creatures are aggressive and viewers feel uncomfortable contemplating them. His faces stare intently from the canvass and around them Tselkov paints sharp objects such as scissors, needles, axes and knives that can cut, pierce, chop and slash.
But Tselkov explains that these objects represent a defense mechanism on the part of his collectivized subjects, not a means of attack. To soften the impression, Tselkov also inserts dragonflies, balloons, fruits and flowers into his pictures.
Tselkov's faces may be grotesque or surreal but they are often executed in the most exquisite and economically used colors. There is a luminous effect and a gradual transition from dark to light in many paintings. Refined monochrome or polychrome colors shape the paintings in thin or thick layers and decorate the central idea.
A dialog between the viewer and these anonymous creatures is difficult. We are worlds apart. As Gusev put it: "We don't like these portraits of us. We prefer our portraits to be made by [contemporary kitsch-realist portraitist Alexander] Shilov."
Tselkov says his influences range from the 14th century icon painting of Theophanes the Greek, to the 19th century realism of Ilya Repin and the bold 20th century abstraction of Kazimir Malevich. The canvasses are strongly influenced by the Russian avant garde.
There are also clear references in Tselkov's work to artists working in France in the 1910s and 20s, notably Fernand Leger and Pablo Picasso, with their passion for the circus and its artists. His puffy, inflated forms are also reminiscent of figures in the work of Francis Bacon.
Of the 22 works shown at this exhibition, six are being donated by the painter to Russian museums. Two will go to the State Russian Museum; two to Moscow's Tretyakov Gallery; one to the State Hermitage Museum; and one to the Pushkin Museum in Moscow.
"The fact that my paintings will be kept in the same museums where the great masters' works are takes my breath away," Tselkov said.
Others paintings in the exhibition will also stay in Russia, but in the private collection of Feliks Komarov.
Oleg Tselkov at the Marble Palace
of the Russian Museum,
5/1 Millionnaya Ulitsa, until Oct. 12.
www.rusmuseum.ru
News source: times.spb.ru


Print this news
---
Culture news archive for 28 September' 2004.
Culture news archive for September' 2004.
Culture news archive for 2004 year.