Culture news
United Kingdom of Music
11.04.2004 16:01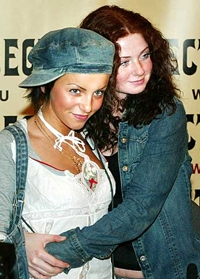 St Petersburg Times
By Sergey Chernov
Staff Writer
Photo by Ivan Sekretarev / AP
British rock arrived in the Soviet Union via the airwaves, or it was at least available on foreign records and tapes, but in terms of live music, there was a dearth of performances by UK bands.
PART 1: UK Music in Russia
After the first British rock act in Russia - Elton John's series of concerts in Moscow and St. Petersburg in 1979 - the second was UB40, in 1986.
Now, while aged hard rockers, such as Deep Purple, who ended their fifth Russian tour in St. Petersburg last week, pack out sports arenas with 40-and 50-somethings reliving their teens, more recent innovative acts struggle to break into the Russian market.
"Contemporary music is the music of aficionados and collectors, rather than music that a whole generation listens to - even in such big cities as Moscow and St. Petersburg," says Seva Gakkel. In 1995, Gakkel promoted Peter Hammill's visit to the city, and has since helped to bring over British
acts such as Tindersticks and David Sylvian.
"Judging by clubs and small concert halls, there's always a category of people, numbering around 300, who listen to this music," said Gakkel. "The rest are consuming MTV, hip-hop, Russian prison folk and whatever they hear on the radio."
Most of the blame Gakkel attributes to the economic factors: "An English band can't come off its own back, or just because it's good, interesting or relevant. It can only come if somebody takes a financial risk on it. As a rule, a club-size concert is not profitable," he said.
Unless a promoter is able to take just such an occasional loss, contemporary bands rely on backing from cultural organizations, such as the British Council, who recently sponsored a Stereolab one-off Russian concert in St. Petersburg.
"I think it was a success," said Alla Vasilyeva, British Council's arts project manager about the concert which drew an estimated 500 fans. "We're not exactly aiming at what the general Russian listener already knows. Of course, Stereolab have their fans, but there were many people [at the concert] who were not familiar with that type of music. Despite many years in the business, [Stereolab] are seen as more or less experimental."
Andrei Samsonov, a British-educated electronic music composer and producer based in the city, sees the main problem as the shortage of advertising, of "even simple posters," and reports in the local media. "Audiences could be bigger - they just need to be notified somehow," he said.
More real limitations paralyze the city in terms of hosting live music by UK and other foreign bands: the lack of a dedicated 2000-seat concert venue and poor variety of live club venues, according to British music promoter, Nick Hobbs. Although Hobbs, of London-based company Charmenko, claims the dozen or so St. Petersburg concerts by acts like Nick Cave and The Orb which he mediated in were successful, he has doubts over the city as a market.
"St. Petersburg's concerts of alternative music often attract half the audience of Moscow. Presumably this is a reflection of the different city sizes, as much as anything else, but it's also the paucity of live music clubs."
As an illustration, one could take seminal UK band The Fall, who played two concerts at a Moscow club but none in St. Petersburg. Is it then a question of quality then, as well as quantity?
"Honestly speaking, St. Petersburg and Moscow have two altogether diverse poles, tastes and interests," said Roman Unguryanu of the Moscow-based promoters Caviar Lounge - the people responsible for bringing a number of international acts to St. Petersburg, including Violet Indiana.
"We promote younger artists in small Moscow clubs. Without any advertising, Ladytron and St. Etienne will draw 1,000 fans in Moscow. But I'm not sure they're even known in St. Petersburg."
PART 2: Russian Music in the UK
Even if making it big in the UK - the home of rock - has been a longtime dream for Russian rock musicians, nobody seems to approach it yet. Irregular concerts by Russian bands abroad are frequented mostly by Russian émigrés, despite some success for local folk-tinged acts La Minor and Iva Nova at clubs in continental Europe.
"Britain is a nut that is harder to crack for Russian pop, rock and jazz artists than many other markets of developed Western countries, despite the ever-growing Russian-language communities there," said Alexander Kan, a longtime local jazz promoter, now host of the "Otkrytaya Muzyka" show (Open Music) on the London-based BBC Russian service.
"Akvarium, DDT and Auktsyon ... have a hard time getting concerts in London where promoters at best break even," said Kan. "Take the recent concerts by Auktsyon. [Massively popular local band] Leningrad was on the program of a prestigious world-music festival at the Barbican [in London]. And what? The 1,000-seat venue was half-empty, and 90 percent of the public were Russian."
Samsonov, whose own British-Russian project Laska Omnia with London singer Alice McLaughlin awaits its CD debut in the UK, says Russian music is not really needed in Britain. "Britain is brimming full of its own music; only Russian folk music can be interesting there," he said.
He is skeptical about the alleged successes of such local electronic bands as UE, known locally as Yolochniye Igrushki, in the UK. "If releasing a record is a success, then yes." PPK, for example, the first Russian act to make UK Top 10 with its instrumental trance single "Resurrection" (which reached the number three spot) has not been heard much since then.
To make it in the UK, a band should sound British, according to Hobbs. "There is no obstacle to Russian bands playing in Britain if they sound like they're British! Which is why, say, [Sweden's] the Cardigans or the Hives are successful in the UK," he said.
"Russian bands (assuming that the music charms the British ear) generally are unable to sing in good English. Not that I'm saying they should - but if they want to be successful in the UK, then probably they have to. Tatu was the big exception. Unfortunately, their career was completely mishandled."
Ironically, Tatu, the Moscow-based, fake-lesbian pop duo dubbed as "pedophile pop" by the British media, became the first and, as yet, only Russian act to top the British singles charts.
A follow-up to Tatu's February 2003 success with "All the Things She Said" is not looking likely, however. "Having achieved a historical (no irony!) success, Tatu managed to waste it with their exorbitant claims and lose the scheduled Wembley concerts," said Kan.
The concert promoter claimed Tatu's management had asked for 300 under-16 girls to be dressed in school uniforms for the shows. And yet, BBC website notes that Tatu's UK concerts in May 2003 were canceled due to poor ticket sales.
News source: times.spb.ru


Print this news
---
Culture news archive for 04 November' 2004.
Culture news archive for November' 2004.
Culture news archive for 2004 year.